The week of heat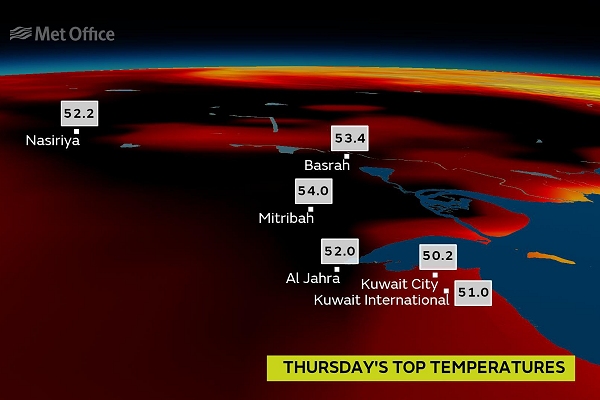 25 July 2016
Extreme heat as well as destructive rainfall made headlines around the world last week, with the town of Mitribah (graphic) in northern Kuwait provisionally recording 54.0°C – one of the highest-ever temperatures in Asia and, according to the UK Met Office, less than three degrees short of the highest in recorded history of 56.7°C at Death Valley, California, in 1913.
"Extremely high temperatures" were seen across Iraq, western Iran, Kuwait and northern Saudi Arabia last week in the severe heatwave affecting the Middle East, the UKMO added on Friday.
On the same day, the US National Oceanic and Atmospheric Administration (NOAA) reported "a widespread heatwave parked over the central United States", causing the heat index to reach 43°C in some places.
Describing heat as "a silent killer", NOAA said more than 120 million people were under at least an official heat advisory, adding that a "unique feature of this heatwave is its very high overnight lows", especially in the Northern Plains and Upper Midwest.
 
---
'Another month, another record. And another'
NOAA said earlier last week that for the year to date (January–June), the average global temperature was 1.89°F above the 20th century average, breaking the record set last year.
"Persistent heat on land and in the sea this June shattered records yet again," the agency said.
"Another month, another record. And another. And another. Decades-long trends of climate change are reaching new climaxes, fuelled by the strong 2015–2016 El Niño," said World Meteorological Organization Secretary-General Petteri Taalas on Thursday, in response to the latest US climate data.
"The El Niño event, which turned up the Earth's thermostat, has now disappeared. Climate change, caused by heat-trapping greenhouse gases, will not.
"This means we face more heatwaves, more extreme rainfall and potential for higher impact tropical cyclones."
He added that the need to implement the Paris agreement on climate change and shift to low-carbon economies and renewable energy was underlined "more starkly than ever".
Too hot to work?
By coincidence, last week also saw the publication of new research for the UN that found future high temperatures could restrict working hours in some of the poorest parts of the world, especially in Asia, and cost more than 2 trillion US dollars by 2030.
The economies of more than 40 nations would experience declines because of 'heat stress'; it could simply become too hot to work.
Extreme heat already curbs working hours by up to 20 per cent in South-East Asia, according to the widely publicized paper in Asia-Pacific Journal of Public Health – one of six published by the United Nations University in Kuala Lumpur detailing the impact of climate change on human health. 
Many National Societies last week reminded their publics of important health advice for heatwaves through their homepages and social media accounts, including the American, Spanish and British Red Cross.
Precipitation
The UK Met Office, meanwhile, said heavy rainfall that has been causing serious human and material losses and triggered a major Red Cross response in China "looks likely" to continue this week in parts of the north-east.
On Tuesday Xingtai city in Hebei province received almost twice its entire July monthly average rainfall in a 24-hour period, while Beijing recorded 281 mm rain in 24 hours.
China's Ministry of Civil Affairs says more than 23 million people have been affected by this year's rains.
Precipitation at the start of the rainy season had been "much higher than in a normal year, kindling fears that continued downpour could trigger a major disaster that would require an extensive emergency response," the IFRC's Hler Gudjonsson reported from the Chinese capital.
Mitribah in northern Kuwait provisionally recorded 54.0°C last week – one of the highest-ever temperatures in Asia and, if confirmed, close to the all time world record set in 1913. (Graphic: Met Office)