New chart style for (even) better cyclone preparedness in Vanuatu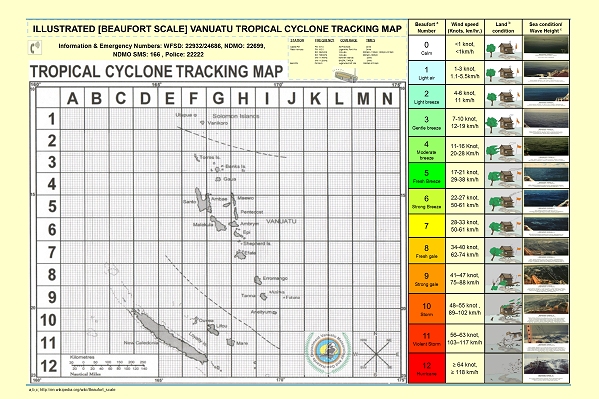 12 July 2016
The Vanuatu Meteorological Service (VMS) last week said its new, simpler map that plots cyclones using letters and numbers rather than latitude and longitude will help people better understand and prepare for damaging storms.
The map (image) correlates windspeeds in terms of the Beaufort scale and knots with pictorial representations of associated land and sea conditions, including wave heights.
It also incorporates local information from community workshops supported by the Finnish-Pacific FINPAC project that aims to improve the livelihoods of Pacific communities through effective weather, climate and early-warning services.
The FINPAC workshops enabled VMS staff and residents to get together to discuss information needs for early warning at the community level.
"Whenever there is a cyclone, we locate [it] and make it a little simpler," William Worwor of the Vanuatu Meteorological Service, told Radio New Zealand last week.
"You just refer to the coordinate as a letter and number, instead of having a full longitude."
'Meteorological data'
Mr Worwor said there were no great changes in the new map, and people could still use the previous version; but "what we're trying to tell people is to take precautions. More time in preparing rather than wait till the last minute, instead of waiting for wind to effect them. They need to take actions well beforehand."
The Vanuatu Red Cross played a key role in disseminating early warnings before Cyclone Pam hit last March, the IFRC's Madeline Wilson reported then. 
"As a result, most people were able to evacuate to safety and loss of life was low. Lives were saved thanks to good meteorological data, good communication and fast action by trained volunteers in local communities."
A new chart style developed by the Vanuatu Meteorological Service, with FINPAC-supported community involvement, uses letters and numbers rather than latitude and longitude to help people understand and prepare for damaging storms. (Image: VMS)