UN: Drought and flood impacts from El Niño/La Niña could touch 100 million people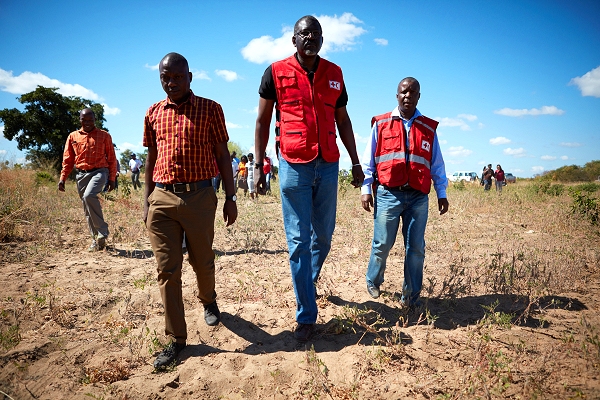 8 July 2016
The three major Rome-based UN agencies specializing in food or agriculture this week called for combined efforts to tackle the global impacts of the Pacific El Niño phenomenon to be "rapidly ramped up by governments and the international community".
More than 60 million people worldwide – two thirds of them in East and Southern in Africa – are projected to be food insecure due to El Niño, said a statement Wednesday by the Food and Agriculture Organization (FAO), the International Fund for Agricultural Development (IFAD) and the World Food Programme (WFP).
In the climatological sense El Niño has faded, but its impacts linger, and the agencies' directors urge greater preparedness to deal with the possibility of a La Niña during the northern autumn and winter – currently put at a 75 per cent likelihood by IFRC forecasting partners, the International Research Institute for Climate and Society (IRI).   
"The UN estimates that without the necessary action, the number of people affected by the combined impacts of the El Niño/La Niña could top 100 million," the statement added.
---
'Acting now will ensure farmers
have sufficient agricultural inputs
for the planting seasons'
A meeting in Rome that included senior officials from Lesotho, Somalia and Zimbabwe, as well as the World Meteorological Organization and the UN Special Envoy for El Niño and Climate, heard that almost US$ 4 billion was required to meet humanitarian needs in El Niño-affected countries, mostly for food and agricultural inputs.
"The meeting called for action to recover agricultural livelihoods that have been severely damaged by the droughts associated with El Niño," the joint statement said.
"Acting now will ensure that farmers have sufficient levels of agricultural inputs for upcoming planting seasons."
FAO, IFAD and WFP were all redoubling their existing efforts worldwide to "mitigate the negative impacts and capitalize on positive opportunities of [a La Niña]…
"This means acting decisively to prepare for above-average rainfall in some areas and potential drought conditions in others."   
Small farmers
FAO Director-General Jose Graziano da Silva said: "El Niño has caused primarily a food and agricultural crisis", and the agency would mobilize resources to "strengthen emergency response capabilities through targeted preparedness investments."  
Rapid action now could save lives and minimize damage while reducing costs in the future, said Ertharin Cousin, Executive Director of the World Food Programme, which is partnering the Red Cross Red Crescent in German-supported forecast-based financing pilots worldwide.
"Farms have failed, opportunities for work have evaporated, and nutritious food has become increasingly inaccessible for many communities," she added.
"But new humanitarian crises are not inevitable if we invest in support for communities and provide the tools and skills required to endure climate-related shocks."
'Window of opportunity'
IFAD Vice-President Lakshmi Menon said small farmers were most vulnerable to extreme weather because many depended on rain-fed agriculture.
The UN agencies say there's a "three-month window of opportunity" in Southern Africa before the 2016–17 planting season, and distributions of "agricultural inputs" were now urgently needed to avoid millions of people depending on humanitarian assistance next year.
The joint statement contains summaries of the agencies' specific responses to drought linked to El Niño in Africa, Asia and the Pacific. 
For WFP, it says, building resilience is integrated into emergency response where possible, citing the agency's work in Zimbabwe with the Food Security Climate Resilience Facility ('FoodSECuRE'), and the Rural Resilience Initiative ('R4') that has provided El Niño-related insurance payments to farming families in Ethiopia, Malawi and Senegal.
(Since R4 began in 2011, IRI has provided climate and technical expertise to develop the programme's insurance index, based on rainfall measurement by satellite.)
Visiting IFRC Secretary General Elhadj As Sy with residents and Red Cross volunteers in a badly drought-affected part of Zimbabwe in May. Zimbabwe was one of the first countries where WFP, through FoodSECuRE, released money to farmers facing El Niño-related drought. (Photo: IFRC)