IFRC reference centre world's 7th most-efficient climate think tank in new global top-100 ranking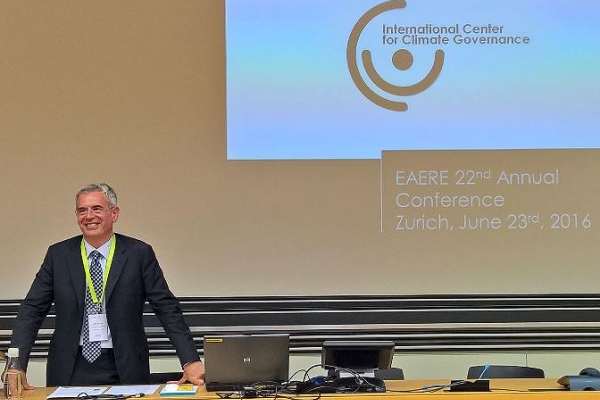 27 June 2016
The International Center for Climate Governance (ICCG) on Thursday announced its 2015 'Climate Think Tank Rankings' – a global assessment of the "most cutting-edge institutions working in the field of climate change economics and policy".
The ICCG said the rankings, published every year since 2012, are compiled by assessing think tanks' scientific publishing output, activity in organizing conferences and seminars, participation in the latest IPCC assessment report, and their "web performance and use of social networks".
The full rankings are divided into a 'standardized' group that measures efficiency and also provides the overall winner, while an 'absolute' ranking measures think tanks' impact regardless of size.
For the third year in a row, the Massachusetts-based Woods Hole Research Center was top climate think tank; second came the Union of Concerned Scientists, also based in Massachusetts; and third was the Berlin-based Mercator Research Institute on Global Commons and Climate Change.
'Reference centres model'
The Climate Centre – a specialist IFRC reference centre hosted by the Netherlands Red Cross in The Hague, and a relatively small think tank – was 53rd in a top-100 absolute ranking but seventh in the world when judged by efficiency.
"This ranking validates the usefulness of the reference centres model," said the Climate Centre's director Maarten van Aalst, "solidly grounded in the Red Cross Red Crescent Movement while exploring new territory and innovations, brokering partnerships, and creating the space for good policy on core humanitarian concerns.
"I'm proud of our excellent team who work hard to bridge science, policy and practice with programmes like forecast-based financing and world weather attribution – to name but two – with a tight focus always on the most vulnerable.
"It's a real accolade to see the effectiveness and especially the efficiency of the think-tank dimension of our work recognized in this new ICCG league table."
The top think tank in the absolute ranking is the Helmholtz Centre for Environmental Research based in Leipzig, Germany; second was The Nature Conservancy in Arlington, Virginia; and third came the International Institute for Applied Systems Analysis in Laxenburg, Austria.
The 100 best independent think tanks in 2015 are not affiliated with any academic institutions, political parties or interest groups and are among 240 on the ICCG's interactive global map showing where they work.
Carlo Carraro, professor of environmental economics at the Ca' Foscari University of Venice and a vice-chair of the IPCC's Working Group III, announcing the think-tank rankings on Thursday at the annual conference of the European Association of Environmental and Resource Economists in Zurich. (Photo: ICCG via Twitter)