Vector control key to beating yellow fever as number of vaccinated Angolans tops 8 million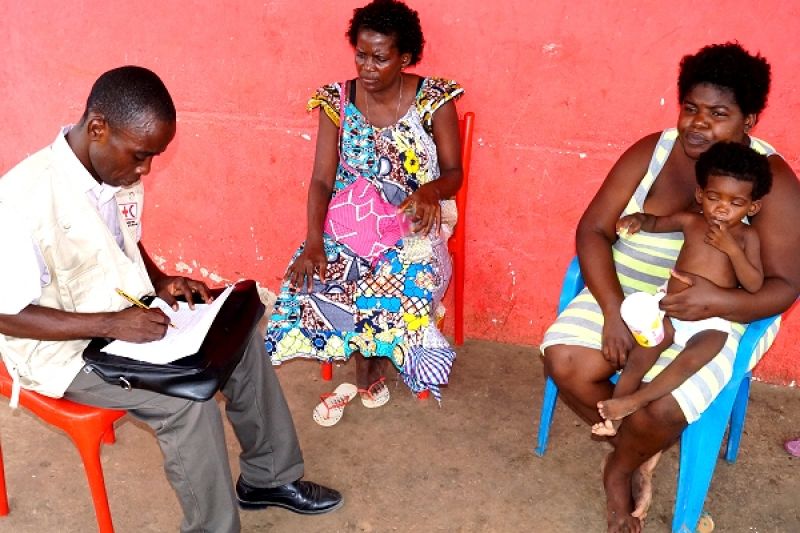 23 June 2016
The IFRC earlier this month called for "an immediate scale-up in response" to the spread of yellow fever in Angola and other countries.
"Limited vaccine supplies, poor sanitation, inadequate disease-surveillance systems and everyday cross-border interaction could turn a national outbreak into a larger crisis if immediate community-based action is not taken," said Dr Fatoumata Nafo-Traore, director of the IFRC's Africa region.
"Vaccinations are the first and best line of defence, but given the limited supply of yellow fever vaccine globally we need to prioritize community engagement as a vital tool to prevent the further spread of the disease."
Yellow fever is a viral haemorrhagic disease transmitted by infected mosquitoes; a small proportion of people who contract it develop severe symptoms and about half of those die in seven to ten days, according to the World Heath Organization (WHO).
Staff and volunteers with the Angola and Democratic Republic of the Congo (DRC) Red Cross societies have been supporting vaccination drives and conducting social mobilization to advise communities on ridding neighbourhoods of sites where mosquitoes breed.
The IFRC has also deployed Regional Disaster Response Teams to both countries and released money from its Disaster Relief Emergency Fund to support operations to tackle the outbreak.
Endemic
"As a vector-borne disease yellow fever will be affected by climate, but actual impacts on the ground will vary depending on local factors," explains Madeleine Thomson, Senior Research Scientist at IFRC science partners, the International Research Institute for Climate and Society (IRI).
"'Urban yellow fever' is transmitted by the day-biting, container-breeding Aedes aegypti mosquito, so vector control is a very important part of controlling and beating the disease in and around human settlements.
"But the 'jungle' or 'sylvatic' version is transmitted by the Haemagogus and other mosquitoes such as Masoni africana that carry the virus from primates to humans and breed in the forest canopy."
In its latest sitrep, the WHO reports 345 deaths in Angola from yellow fever, which has also spread to Uganda.
Yellow fever is endemic in 47 countries in Africa and in Central and South America, but around 90 per cent of cases are generally reported in sub-Saharan Africa.
"As its primary urban vector is Aedes aegypti, yellow fever has a lot in common with dengue, chikungunya and Zika," Thomson adds.
"But it's more dangerous than those viruses, while jungle yellow fever can have complex cycles with animal populations in forests."
'Local conditions'
A La Niña later this year – given odds of 60 to 65 per cent by IRI in its June update – would not be expected to increase temperatures on average, said Thomson, but the Pacific phenomenon could shift rainfall patterns in Africa, increasing the likelihood of heavy rains in Southern Africa, including Angola.
"Aedes breed in small areas of water out of doors, in trash, abandoned tyres, plant pots and the like – with breeding sites multiplying with heavy rainfall.
"But they also breed in domestic water-storage containers that often increase with droughts, so the impact of any La Niña would be closely related to local conditions, including human behaviour."
The IFRC is also deploying a 'FACT' (Field Assessment Coordination Team) to Angola focused on community surveillance, vector control and education on vaccination.
"With our decades of experience of deploying community-based volunteers to help prevent and respond to vector-borne diseases such as malaria, dengue and chikungunya, the Red Cross can play a key role in managing this outbreak," said Dr Adinoyi Adeiza, IFRC Africa region health coordinator.
"We are extremely concerned about the further spread of this outbreak, particularly to countries bordering Angola such as Namibia and Zambia," he added.
Poor sanitation is believed to be the main cause of the spread of Aedes aegypti mosquitoes in the Angolan capital, Luanda, especially in uncovered water tanks, the IFRC says. The picture has worsened due to local economic problems, hitting budgets for waste disposal and causing trash to accumulate in the poorer areas where the disease was first reported. The Angolan Red Cross (pictured) has been mapping high-risk areas in Viana municipality, where the outbreak began, and training volunteers in vector control. (Photo: Dr Leonel Pontes/IFRC)