A month on from Roanu and after 'unusually high tides', IFRC warns of monsoon danger to Bangladesh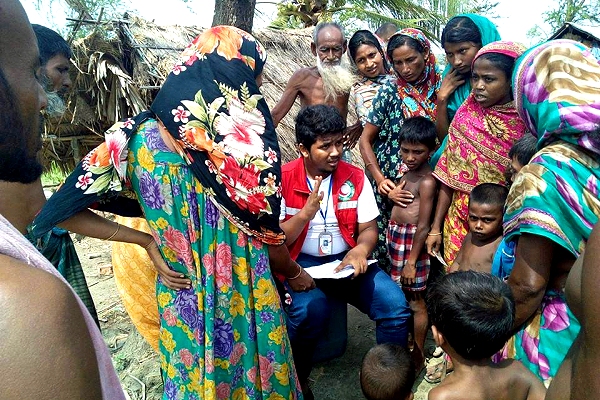 20 June 2016
(This story is a press release that was issued by the IFRC earlier today from Geneva and Kuala Lumpur and includes media contacts.)
One month after Cyclone Roanu struck Bangladesh the IFRC is warning that thousands remain in need of urgent help as the monsoon season hits.
Nearly a quarter of a million people in coastal districts have been forced to leave their homes due to damage inflicted by the cyclone, which affected around 1.3 million people and led to widespread flooding.
Around 600 Bangladesh Red Crescent Society (BDRCS) youth volunteers have been on the ground helping people since the cyclone made landfall on 21 May.
But the IFRC has warned that the plight of thousands has gone largely neglected by the international community.
Embankments
"Despite the fact that we successfully evacuated 500,000 people ahead of the cyclone and minimized the loss of life, this was a very destructive storm," said Azmat Ulla, the IFRC's head of office in Bangladesh.
"It made landfall during the high tide, which intensified the tidal surge [that] contaminated agricultural land with salt water and also washed away boats and fishing nets.
"Many people have lost their livelihoods and it's going to take time for them to recover. Food and clean water are in very short supply, while thousands have lost their homes."
The monsoon is expected to bring more rain across the country in the coming weeks, and the damage caused by Cyclone Roanu to protective embankments in coastal areas has meant that local people are even more vulnerable to further flooding.
The IFRC and the Bangladesh Red Crescent have been working with communities in Bangladesh for over three decades to build their resilience and reduce the risks they face.
'Humanitarian investment'
"The people of Bangladesh are no strangers to natural disasters," added Ulla. "But that does not mean they are able to pick up the pieces on their own.
"The increasing frequency of emergencies means that people struggle to recover from one disaster to the next. We need to see more humanitarian investment to build the resilience of such communities.  
"Even without the impact of the cyclone, we have been seeing unusually high tides in coastal areas due to climate change.
"Normally at this time of year we expect the high tides to reach around three feet. Now they're increasingly reaching four or five feet, which people are not prepared for."
In response to Cyclone Roanu, the IFRC launched an emergency appeal at the start of June to support the Bangladesh Red Crescent Society in providing relief and recovery assistance to 55,000 people, but it has only received 34 per cent of the necessary funding.
To date Red Crescent volunteers have reached 15,000 people with emergency shelter items and cash grants. A further 5,000 people have received clean drinking water while 2,000 have been treated by Red Crescent mobile health teams.
The ICRC and other Movement partners are also supporting the BDRCS.
                                                                             *
Planning for the operational roll-out of forecast-based financing (FbF) in Bangladesh now includes a consensus – after climate-risk analysis meetings with communities – on cash-based preparedness actions in both flood- and cyclone-prone project areas, the Climate Centre adds.
FbF in Bangladesh is supported by the German government and being implemented by the BDRCS with technical support from the German Red Cross and Climate Centre.
It will cover a total of 4,500 households in eight vulnerable villages.
Red Crescent volunteers in Chittagong district conducting an assessment after Cyclone Roanu made landfall last month, affecting 1.3 million people. A tidal surge along with heavy rainfall damaged or destroyed homes and inundated rice paddies and standing crops. (Photo: BRDCS via IFRC)