Now scientists probe possible climate link to Europe floods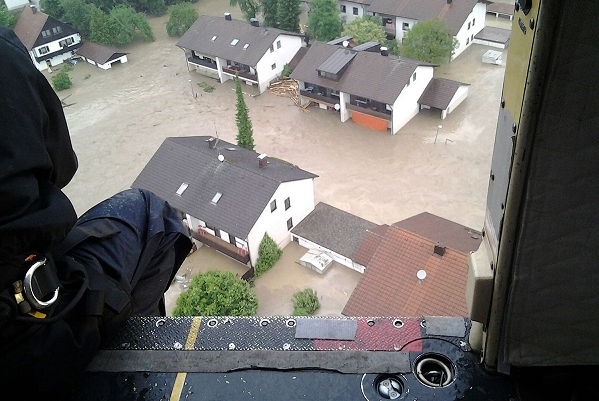 3 June 2016
Scientists are this weekend urgently analysing whether climate change made the latest flood disaster in Europe more likely. 
France and Germany have been particularly badly hit after a week of torrential downpours, and media reports late Friday said at least 15 people in several countries had died, including ten in southern Germany.  
The French Red Cross said Thursday it had mobilized 300 volunteers to assist thousands of displaced people. 
"Several days of incessant rain caused exceptional flooding in the departments of Loiret, Seine et Marne, and Yonne," the National Society said.
The German Red Cross earlier this week said "strong storms in Baden-Württemberg, Bavaria and North Rhine-Westphalia had caused serious damage", speaking of a "trail of destruction" in the Lower Bavarian district of Rottal-Inn, for example, and "entire communities" flooded out. 
Climate connection?
In Euskirchen, a town in North Rhine-Westphalia, specialist Red Cross mountain teams were involved in helicopter rescues, and the National Society set up a 200-bed shelter, in Braunsbach, Baden-Wurttemberg.
Climate Centre Director Maarten van Aalst told Deutsche Welle radio that scientists were now "quite confident" of the connection between climate change and European heatwaves: "With the heat we had in Europe last summer, we were able to see that for certain cities the risk had increased up to fourfold, or even up to tenfold.
"But in the case of rainfall and storms, it's more difficult: Did climate change increase the risk of the disasters that we're seeing in France and Germany today? 
"That analysis was very difficult ten years ago, but the science is being done right now, and we'll be able to answer that question soon."
The group of scientists collaborating on the World Weather Attribution project, which includes the Climate Centre, are expected to issue a statement on the latest flood disaster in Europe around the middle of next week. 
'Space for rivers'
In December the group detailed a real-time analysis that found global warming had increased the odds of Storm Desmond – which had earlier blown over the British Isles bringing gale-force winds and exceptional rain – by about 40 per cent, a "small but clear effect". 
Dr Van Aalst added: "An important part of being prepared is to think of what the worst could be and then be prepared for that. 
"That includes basic things that are generally in good order in Europe, like flood defences, infrastructure and construction methods. Increasingly, it also includes natural systems. 
"In the Netherlands, for instance, we are leaving more space for the rivers, so that when lots of water comes downstream, we are able to let the rivers overflow and store that water for a while.
"It also includes making people aware of the risks and making sure they know what to do when those extremes do happen. Because they will."
The UK Met Office said Friday that next week, with now-localized downpours across Europe "getting more organized in France, the Low Countries and Germany [and] bringing more heavy rain," the floods were not expected "to ease any time soon".
Nearly 500 people were evacuated early in the flood disaster in Lover Bavaria. Specialist Red Cross mountain teams were involved in helicopter rescues, and the National Society set up a 200-bed shelter in one town, Braunsbach. (Photo: Dieter Schutz/DRK via Twitter)