Over 55,000 community volunteers help move half a million people out of harm's way before Cyclone Roanu strikes Bangladesh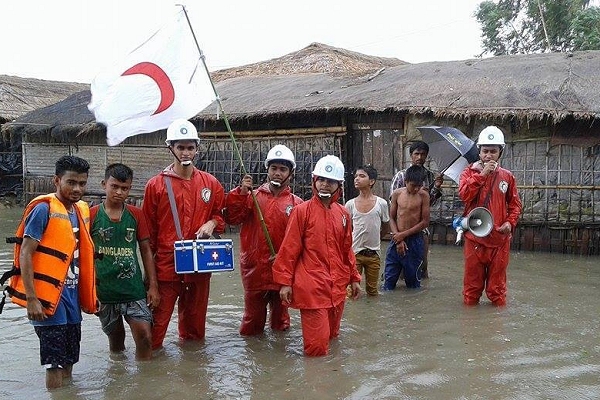 23 May 2016
(This story appeared earlier today on ifrc.org and has been slightly edited here for length.)
Just before Cyclone Roanu slammed into Bangladesh's coast on Saturday, Mohammad Alamgir Hossain from Char Patila, a remote island in Bhola district, swung into action.
As head of the local Community Disaster Response Team (CDRT), Alamgir was well trained on disaster preparedness, first aid and search and rescue techniques.
He was alerted by the local radio operator working for the Bangladesh Red Crescent Society's (BDRCS) Cyclone Preparedness Programme (CPP) and immediately organized his team members to start evacuating the local community to safer ground. 
"It was a signal seven warning, so I quickly coordinated with the rest of the team and we divided ourselves into two groups," said Alamgir. "We were equipped with raincoats, rubber boots, life-jackets and a megaphone. We ran through the community announcing the danger signals and spreading early-warning messages."
Raised plinths, reinforced frames
The Red Crescent had alerted its local branches in 18 coastal districts in advance of the cyclone's arrival.
They in turn helped to mobilize 55,260 CPP volunteers whose role was to disseminate early warnings to local populations living along the coast and help them evacuate.
Due largely to the actions of these volunteers, more than 500,000 people were moved to cyclone shelters and other places of safety prior to the cyclone's landfall.
When Cyclone Roanu struck the coast of Bangladesh, it was accompanied by strong winds and driving rain and a tidal surge of more than a metre which swept inland.
But in Char Patila, preparedness measures had paid off and no lives were lost, although a significant number of livestock and poultry perished in the flooding.
"The storm did little damage to our homes which we had reinforced earlier," explained Alamgir who together with rest of the community had learned how to secure their homes under the Red Crescent's community-based disaster risk reduction programme.
"In the trainings we learned the importance of raising the plinth of our houses and reinforcing the frame to withstand floods and storms. People became more conscious and this has had a positive impact in reducing damage during such storms."
Alamgir with other CDRT volunteers were also trained in first aid. "We are equipped with first-aid tools and basic medicine. After the storm we provided first aid and sent a few of the injured to hospitals."
Tidal surge
Cyclone Roanu is the first tropical cyclone of the monsoon season in Bangladesh.
Fortunately only 24 deaths have been reported but the storm's impact along the coastal belt has been significant.
Some 700,000 people have been affected as the tidal surge along with heavy rainfall damaged or destroyed around 80,000 homes and had major impacts on the livelihoods of local people by submerging rice fields and standing crops.
"Water seeped into to our rice stores and much of it has been damaged, but we know this is part of our life," explained Alamgir with a note of resignation in his voice.
"We are working together as a community and we have learned how to manage and will do it better in the future."
The IFRC is now releasing funds from its Disaster Response Emergency Fund to support the BDRCS relief and recovery operations.
                                                                                   *
Storm-surge damage in Bangladesh is already aggravated by sea-level rise and this risk will continue to grow, writes Climate Centre Director Maarten van Aalst from the World Humanitarian Summit in Istanbul.
But the message from this storm is as much about solutions as impacts – and about how crucial it is to invest in early action.
So let it remind all of us that this is what our discussions here need to centre on.
The humanitarian Grand Bargain should enable the system to be more effective in the face of rising risks, including climate change, and we're proud to contribute to the efforts of the Red Cross Red Crescent Movement, including especially its commitment to scaling up forecast-based financing.
This operationally very effective solution – including a programme in Bangladesh, incidentally – enables early action ahead of disasters, rather than costly response action afterwards.
More than 55,000 community volunteers disseminated early warnings in coastal settlements ahead of Cyclone Roanu, and more than half a million people were safely evacuated ahead of the storm. People have also now been shown how to raise their houses onto plinths and reinforce them against storms and floods. (Photo: BDRCS via IFRC)