IFRC to scale up response to drought and strengthen resilience in Southern Africa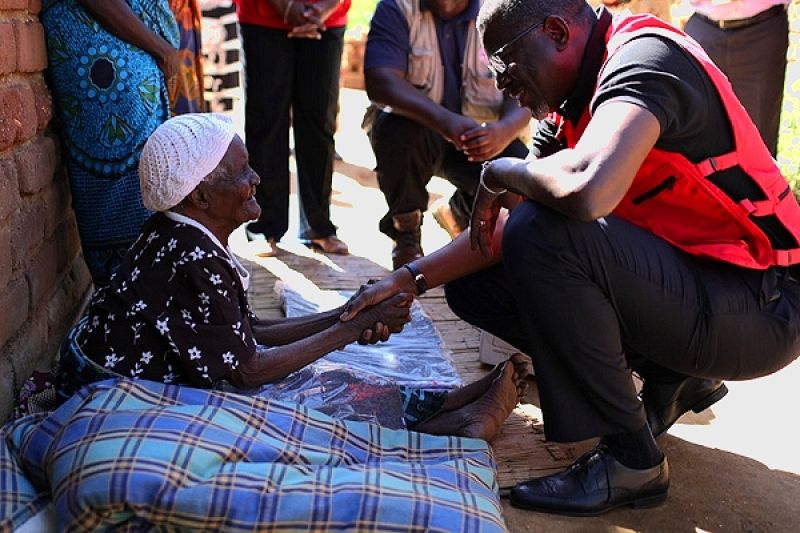 17 May 2016
(This story is an IFRC press release issued today.)
The IFRC today announced a major 110-million Swiss franc, four-year initiative to support National Red Cross Societies respond to the drought affecting millions of people across Southern Africa.
The initiative will increase Red Cross relief activities significantly, alongside an important expansion of long-term efforts to strengthen the resilience of 1 million vulnerable people.
IFRC Secretary General, Mr Elhadj As Sy, made the announcement following a mission to Malawi and Zimbabwe where he travelled to some of the areas worst-affected by a drought driven by one of the strongest El Niño phenomena.
States of emergency
"Much more needs to be done to support communities to survive and strive over the coming months," said Mr Sy. "We met families who have received no external support and who are simply desperate.
"The needs far outweigh the response to date. We need to urgently scale up our interventions to prevent this situation from becoming a catastrophe."
An estimated 31.6 million people across the region are currently struggling to get adequate food, and this figure may climb to 49 million people by the end of the year.
Lesotho, Malawi, Swaziland and Zimbabwe have all declared states of emergency, as have seven of South Africa's nine provinces.
Mozambique declared a red alert – the highest level of national emergency preparedness – in its central and southern provinces.
In addition to scaling up relief efforts, including emergency distributions of cash, the IFRC's drought-resilience initiative places heavy emphasis on supporting at-risk communities to better withstand future challenges.
Precious assets
"In Mwanza district [of southern Malawi] I met families who, as a result of long-term support from the Red Cross and other partners, were better able to cope with the impact of this drought," said Mr Sy.
One project, implemented by the Malawi Red Cross Society with the support of the Finnish Red Cross, saw vulnerable families receive goats that they could breed and sell for income. Each family is expected to return some of their livestock to the scheme, ensuring that more families can then receive these precious assets
'AH', a widow with three children, lives with HIV. She has reared several goats over the past few years and sold them to purchase food, pay her children's school fees, and build a new home. She has sold some of her goats to withstand the current drought.
"I used to rely on piece work for an income, but it did not pay a lot and we could only afford to eat once a day," said AH, who currently has 23 goats in her herd.
"Now, we are eating three times a day, which is especially important so I can continue my medication. This project has helped me a lot."
Mr Sy said: "This is one example of what is needed: a large-scale expansion of small-scale interventions that can have a sustainable and life-changing impact."
'New kind of response'
He was joined in Malawi and Zimbabwe by a number of partners, including the CEO of Devex, Raj Kumar, and UNICEF's El Niño Senior Advisor, Shadrack Omol. The participation of partners highlighted the importance of improving coordination and cooperation for an effective response.
Mr Sy added: "The challenges we are now seeing in southern Africa won't be easily overcome, and they most certainly won't be overcome if we continue working as we have in the past.
"A new kind of humanitarian response is needed: one that is built on a coalition of actors committed to breaking the silos we currently work in, and who are committed to taking long-term local action to strengthen resilience – now and for the future."
(Editors: The Southern Africa drought plan is part of the One Billion Coalition for Resilience. IFRC audio-visual material is at Newsroom.)
IFRC Secretary-General Elhadj As Sy with villagers in the drought-stricken Mwanza district of southern Malawi. Lesotho, Malawi, most of South Africa, Swaziland and Zimbabwe have all declared states of emergency in the drought influenced by El Niño. (Photo: Juozas Cernius/IFRC)