Resilience tops 'high-value' UN to-do list at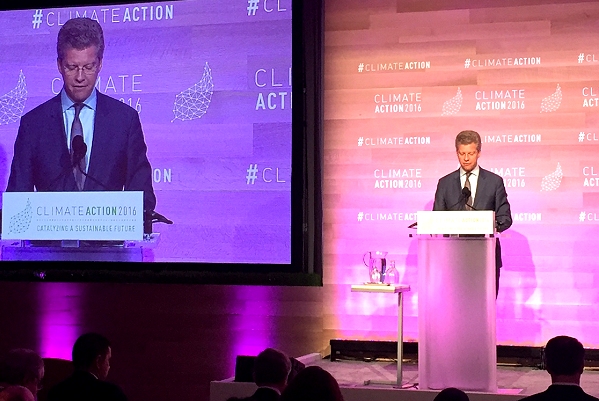 9 May 2016
The major global 'public-private' conference announced at COP 21 last year to gather leaders from "government, business, cities and localities, civil society and academia" pushing for implementation of the Paris agreement took place in Washington, DC last Thursday and Friday.
In opening remarks to some 700 attendees, UN Secretary-General Ban Ki-moon told 'Climate Action 2016': "Urgent action is critical for meeting the climate challenge and building a clean-energy, climate-resilient future."
He said the conference would focus on "six high-value areas of multi-stakeholder partnership: resilience, sustainable energy and land use, cities, transport and tools for decision-making."
Among senior figures jointly hosting the meeting was Jim Yong Kim, President of the World Bank Group, who said the success of the UN climate talks in Paris and the agreement they produced would be "determined by the actions we take in the critical period from now to 2020…
"We don't have a moment to lose."
'Scaling what works'
The importance of the resilience theme was underlined by Judith Rodin, Rockefeller Foundation President and another co-host, who said: "One of the best ways to accelerate action on climate issues is to build resilience.
"We know that to do this we need innovations in financing, new ways of working, and scaling what works.
"Individually, everyone [here] could make a profound impact. Together, we can ensure that we reach the potential and promise of the Paris agreement while creating stronger communities that are better prepared for a range of threats, climate and beyond."
Climate Centre Director Maarten van Aalst moderated a high-level session entitled 'Building Resilience', where Shaun Donovan – Director of the Office of Management and Budget for the Obama administration – gave a keynote address.
"Even though adaptation – and resilience – starts at home," Mr Donovan said, "the costs of inaction can stretch beyond borders, and so we must work together to protect and cherish what Pope Francis so eloquently calls our 'common home'. 
Michel Rentenaar, Climate Envoy for the Netherlands, noted that the strong engagement of business, local government and civil society had been "a key building block of the Paris agreement" essential to its implementation.
He highlighted Partners for Resilience alliance that was also mentioned by Dutch Prime Minister Mark Rutte in Paris.
'Ambitious mitigation'
The high-level session also featured Mohamed Beavogui, Director General of African Risk Capacity, Michael Berkowitz, CEO of the '100 Resilient Cities' initiative, and a closing keynote address by the President of the UN Environment Assembly, Oyun Sanjaasuren.
Maarten van Aalst said in summary: "We need ambitious mitigation to prevent risks getting out of hand, and equally we need to invest in resilience to manage the rising risks we face now.
"Resilience traverses all global commitments, as well as the forthcoming World Humanitarian Summit, and investing in it meets many objectives at once.
"But bold action requires the involvement of all actors, ensuring we really reach the most vulnerable, working across communities, the private sector, and local and national governments." 
Dr Van Aalst pointed out that many initiatives are committed to achieving results on resilience by the next UN climate talks in Morocco and beyond, anticipating risks and enhancing local capacity to act on warnings, increasing insurance coverage, and reshaping development planning.
"We need to put a price on risk," he said, "just like we need to put a price on carbon."
The Director of the US Office of Management and Budget, Shaun Donovan, told Climate Action 2016 that although adaptation and resilience start at home, the costs of inaction stretch beyond borders. He also tweeted that "adapting to impacts of climate change requires global action. Excited to discuss the importance of resilience…" (Photo: whitehouse.gov.)