La Niña watch now in force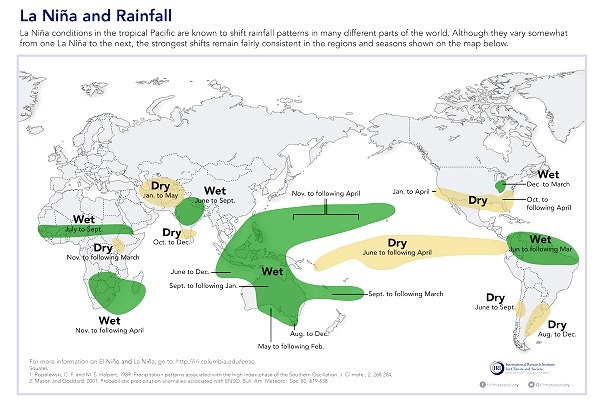 2 May 2016
The US Climate Prediction Center and the International Research Institute for Climate and Society (IRI) last month jointly issued a 'La Niña watch' under the ENSO alert system, indicating that "conditions are favourable for a La Niña to develop in the next six months".
Forecasters expect the current strong El Niño to fade in the next one or two months and "set up the possibility for La Niña conditions to take over", according to last week's IRI April climate briefing, El Niño lingers, La Niña looms.
In the past, strong El Niño events have often – but not invariably – been followed by La Niña conditions, it says.
"Most of the models are predicting at least a weak La Niña," said IRI Chief Forecaster Tony Barnston.
"Some are not predicting one. But on average the consensus is that there would be a weak one at least," with a 60–70 per cent probability.
'Likely scenario'
In the April briefing from IRI, the IFCR's forecasting partners, the probability that El Niño will continue, at least at a weak level, drops to about 75 per cent (from 100 per cent) in the period from April to June.
It says: "The probability of El Niño then plummets to approximately 20 per cent for the May–July season, as chances for neutral conditions dominate.
"La Niña [relatively cool Pacific seas] takes over as the most likely scenario…"
IRI said during the 2010–11 La Niña: "Since 1950, the world has experienced six major La Niña events, which were linked to widespread flooding in some areas."
The International Research Institute for Climate and Society publishes a detailed analysis of the possible impacts of both El Niño and La Niña on its website, and Red Cross Red Crescent disaster managers can register for the email notification service for their country or region. Also follow #IRIforecast on Twitter. (Image: IRI)