Paris agreement: 175 nations sign in New York, but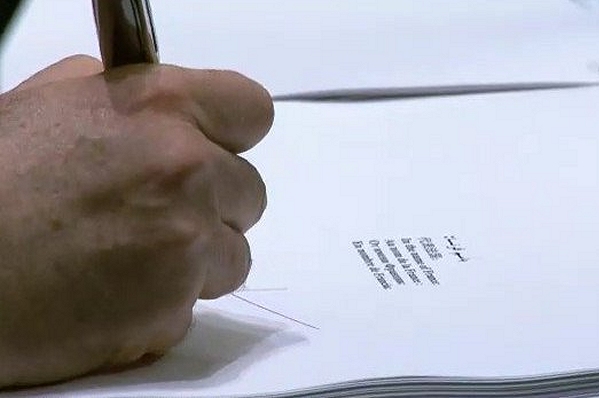 22 April 2016
The text of the historic global agreement thrashed out at the COP 21 UN climate talks in Paris last December was signed by 175 nations at a ceremony convened today by UN Secretary-General Ban Ki-moon in New York.
The first to sign was COP 21 host President Hollande of France, who later tweeted that he was appealing to countries to ratify the Paris agreement as soon as possible: "L'urgence est toujours là," he said.
The signing ceremony in New York marked "an important international push on the way to the agreement's timely entry into force," in the words of a statement earlier this month by the Bonn-based secretariat of the UN Framework Convention on Climate Change (UNFCCC).
"A country's signature on the agreement initiates the critical domestic process, on which depends its final entry into force," the UNFCCC statement added.
"This process takes many separate forms and can be rapid or lengthier, depending on each country's domestic practices.
"The outcome may be countries' instruments of ratification, acceptance, approval or accession."
Legal instruments
The Chief of the Treaty Section of the UN Office of Legal Affairs, Santiago Villalpando explained that the New York event was not the last opportunity for states to sign: "The Paris agreement will remain open for one year until 21 April 2017."
On what has to happen for the agreement to take effect, Villalpando said that after the signing a "double threshold" must be crossed: "The first [part] is that we need 55 ratifications, acceptances or approvals for the agreement to enter into force [and] they need to come from states that represent 55 per cent of total greenhouse gas emissions."
The agreement would then enter into force on the 30th day after this point and states had actually deposited legal instruments with the UN; it was possible this could happen over the coming year, well ahead of the original intended start date in 2020.
UNFCCC legal specialists have released a detailed information note on the mechanics of implementation of the Paris agreement.
The agreement was described last year by Garry Conille, IFRC Under-Secretary General for Programmes and Operations, as a "critical milestone that shows an appropriate balance between climate change mitigation and adaptation.
"This agreement will need to be implemented with a view to placing the interests of the most vulnerable at its core.
"We need to invest in their resilience, help them to adapt to the inevitable impacts of climate change, and forestall future crises by promoting ambitious emissions reductions."
'Momentum'
Speaking in New York, Climate Centre Director Maarten van Aalst said there was "an important element of symbolism in the signing ceremony, but it has to grow into much more than just that.
"One critical element of the Paris agreement was the focus on ambitious climate action, to drastically reduce greenhouse gas emissions and to build resilience in the face of rising risks.
"This is why the IFRC is pledging its own One Billion Coalition for Resilience to the Paris process, as well as embracing the UN Secretary General's 'Anticipate, Absorb, Reshape' initiative to build resilience, especially for those in vulnerable coastal areas or facing droughts and floods.
"The Paris agreement is ambitious and implementation is not yet beyond doubt – we need to keep up the momentum even after this timely event in New York.
"And while these signatures are critical, we don't have to wait to see all of them on paper – we can and must start acting on the global commitments without delay."
This will be highlighted again in Washington, DC shortly at Climate Action 2016 – another high-level event convened by Mr Ban, World Bank President Jim Yong Kim and others.
Red Cross Red Crescent programmes like Partners for Resilience and BRACED, meanwhile, are linking local solutions to aspirations embedded in the Paris agreement, while forecast-based financing is bridging the climate and humanitarian sectors in countries as far apart as Bangladesh, Peru and Uganda.
Several campaigns are now running on social media to support ratification of the #ParisAgreement, especially #Sign4Climate.
In recognition of the link between climate and trees, the UNFCCC is calling on people all over the world to plant, hug, draw or photograph a tree through Friday and beyond to show support and solidarity with Paris.
President Hollande of France signing the COP 21 Paris agreement on climate today in New York, the first world leader to do so. He tweeted that he was appealing to countries ratify the agreement as soon as possible: L'urgence est toujours là, he said. (Photo: UNFCCC via Twitter)