German-supported forecast-based action in Bangladesh will be all-cash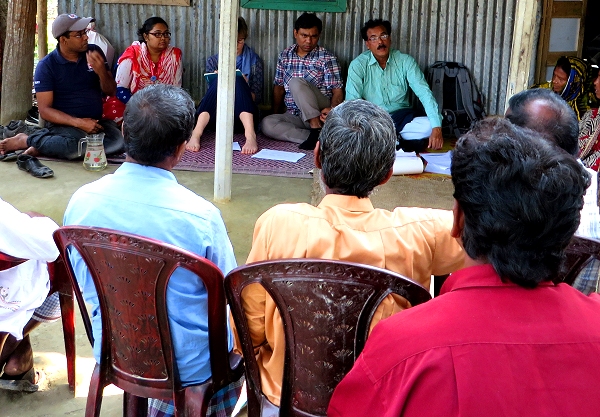 22 April 2016
Planning for the operational roll-out of forecast-based financing (FbF) in Bangladesh is now at an advanced stage, with an established consensus – after a series of 'climate-risk analysis' meetings with communities – in favour of cash-based preparedness actions in both flood- and cyclone-prone project areas.
FbF in Bangladesh – supported by the German government – was inaugurated at an assessment workshop in the capital, Dhaka, last October attended by the Secretary General of the Bangladesh Red Crescent Society (BDRCS), Huq Mozharul, and the German ambassador, Thomas Prinz, as well as representatives of the German Red Cross (GRC) and the World Food Programme (WFP) – an FbF partner agency in the country.
Mr Prinz last month took part in a focus-group discussion in Ishwar, a char (river island formed by sedimentation) community in Hatiya sub-district of Noakhali – a cyclone-prone area in the south-east of the country.
Evacuations
Climate-risk workshops were also held in Noakhali and in Bogra district – a flood-prone area of north-west Bangladesh – with District Disaster Management Committees.
Bangladesh has one of the most complex disaster profiles in the world, with a mix of climatic, seismic and industrial hazards across the country.
Within the Red Cross Red Crescent Movement, the BDRCS has also been long regarded as one of the most experienced and able National Societies in the field of disaster preparedness and the 'early warning early action' model from which FbF has developed – especially in the field of cyclone preparedness.
In flood-prone areas, some Bangladeshi households need to evacuate each year, or at least once every two years; strong cyclones necessitating evacuations occur roughly once every five years in the vicinity of Hatiya and slightly less often on the coastal mainland.
FbF, being implemented by the BDRCS with technical support from the German Red Cross and Climate Centre, is intended to cover a total of 4,500 households (20,500 people ) in eight vulnerable villages.  
Humanitarian model
German-supported forecast-based financing has now been used twice by the Movement, in Uganda and most recently in Peru.
The German Federal Foreign Office action plan on climate, coordinated by the GRC, includes FbF pilots by National Societies or the WFP in Bangladesh, the Dominican Republic, Haiti, Mozambique, Nepal, Peru and the Philippines.*
FbF was last December unveiled at the global level as a new humanitarian operating model by the IFRC and the WFP in a joint press release issued in Rome, Geneva and the COP 21 UN climate talks in Paris.
Planning for forecast-based financing with the Bangladesh Red Crescent Society, supported by the German Red Cross and government and the Climate Centre. A focus group with farmers in Kamalpur union, Sariakandi upazila of Bogra district, agrees priority actions that will centre on cash assistance. (Photo: German Red Cross)
* Alphabetical order.