Conflict and climate push Cameroon's Far North to food-security brink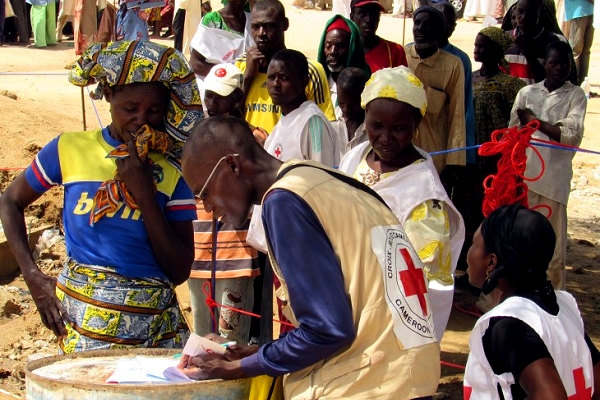 13 April 2016
(This story appeared first on Monday on the website of the Thomson Reuters Foundation. The Cameroon Red Cross and the ICRC have been distributing food and household items to displaced people in the country and their host families.)  
Harvesting a crop in Cameroon's Far North region is becoming an increasingly uncertain proposition.
Armed conflict between Boko Haram militants and Cameroon's armed forces in the region has made it difficult for some farmers to access their fields, deepening food security, said Felix Gomez, the World Food Programme's (WFP) country director.
At the same time, the region is hosting 75,000 Nigerians who have fled that country's Boko Haram insurgency and 82,000 internally displaced people affected by the spillover of the conflict to Cameroon since 2013, officials say.
That has generated a food deficit in Cameroon's Far North region of 132,000 tons, according to a government assessment issued last June.
'Delicate cultivation'
Just as problematic, climate change is gradually rendering the traditional agricultural calendar unreliable, making just getting in a crop hard work, farmers in the region say.
"We have been losing our crops and witnessing significant drops in agricultural output for the past 15 years," Ziga Adibe, a farmer in Maga and coordinator of a rice grower's initiative in the region, told the Thomson Reuters Foundation.
"We no longer master the planting season. Rice cultivation is so delicate that when you miss the planting period slightly, you just have to mourn for your loss.
"What we learned from our parents as children is no longer useful."
To cope, farmers need to try to grow a wider range of crops, including drought-resistant and fast-growing seeds, as well as try new methods of irrigation, and rely more on weather forecasts, said Bongkiyung Emmanuel Nyuyki, an expert on meteorology and agriculture with the Department of National Meteorology.
But a lack of meteorological stations and people trained to use them means farmers like Adibe are often frustrated by a lack of information they can use, Nyuyki said.
The first forecast for the region was issued in January and the second only earlier this April.
Climate models
That forecast predicted "very sunny weather…(and) few but severe thunderstorms which would result to water stress, waves of heat and risks of meningitis, malaria and conjunctivitis," Nyuyki said.
He said that, besides relying on the Cameroon meteorological service, farmers could depend on international climate models, which have predicted below-normal rainfall for the 2016 planting season.
Such models may not be local and specific enough to help farmers make good decisions, however, international experts warn.
Nyuyki said dropping water tables and drying rivers were likely to hurt availability of water for people and cattle this season.
"The main agricultural products – maize, groundnuts, millet, sorghum and rice – suffer enormously due to their high dependence on rainfall. The June 15 deadline for (starting) farming has been unreliable with early as well as late onset of the planting season year in and year out," he said.
Frequent floods, as rainfall becomes more irregular and intense, also have hit harvests in the region, he said.
Host communities
Adibe, the farmer from Maga, said the changes had led to his rice harvests falling by at least 25 per cent over the last five years.
The WFP's Gomez said at least 200,000 people in Cameroon's Far North face acute food insecurity in 2016.
Altogether 1.4 million people in the region – about a third of the population – are estimated to face some level of food insecurity, he said.
To help combat hunger, WFP is providing food and monthly cash to some people, and distributing agricultural inputs such as seeds and fertilisers in collaboration with the UN Food and Agricultural Organization to help farmers prepare for the coming planting season.
But some farmers fear they may not have access to their farmlands due to insecurity emanating from the Boko Haram insurgency in the region.
Denise Brown, WFP's regional director for West and Central Africa said in February that more than 5.6 million people in areas affected by Boko Haram violence in Nigeria Cameroon, Chad and Niger are facing hunger this year.
Gomez said WFP has been helping Boko Haram refugees and their host communities in Cameroon's Far North since June 2013, and intends to scale up its assistance this year due to increasing demand.
Registered beneficiaries queue in northern Cameroon to receive food aid from from the Cameroon Red Cross and ICRC. (2015 library photo: T. Gnonsian/ICRC)