Humanitarian sector grapples with El Niño's global legacy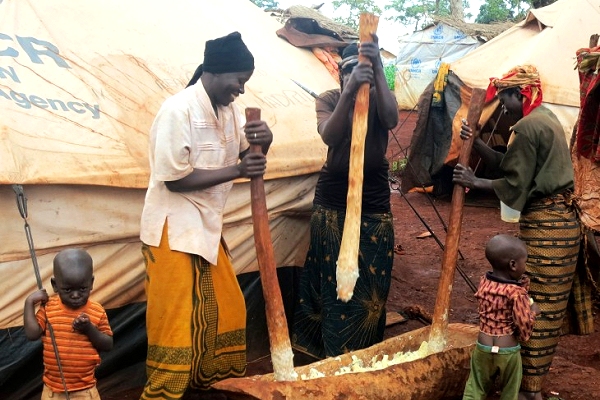 11 April 2016
A cluster of agency reports from the field over the past week, including the IFRC, has emphasized that El Niño – although now past its meteorological peak – continues to be associated with major humanitarian impacts worldwide.
On Thursday the World Food Programme (WFP) said it was committed to assisting 1.6 million people hit by droughts "exacerbated by El Niño" in Guatemala, Honduras, El Salvador and Haiti, and to building resilience against future climate shocks.
Ertharin Cousin, Executive Director of the WFP – a partner organization implementing forecast-based financing programmes alongside National Societies, the German Red Cross and the Climate Centre, was visiting El Salvador and Guatemala "to see the compounded impact of El Niño, one of the strongest in the last half century," according to a WFP press release from Guatemala City.
(In its latest 'El Niño Reporting' bulletin, issued Friday, the Famine Early Warning Systems Network headlined "early season dryness developing in parts of Guatemala".)
WFP says it plans to expand efforts to help the most vulnerable in the four countries until August; Cousin this week visits Haiti, a country now incorporated into the second phase of Partners for Resilience, where WFP says 3.6 million people are food-insecure after three years of severe drought. 
'Water shortage'
Since the start of this year, the IFRC has launched appeals for drought relief in El Salvador and Guatemala, both of which cite El Niño as a major contributory factor.
From the other side of the world, meanwhile, the IFRC's Ly Nguyen last week reported that since the end of 2015 "unusually dry conditions and a shortage of rainfall…associated with El Niño have led to severe drought in parts of the central highlands and southern regions of the country, including the Mekong Delta."
Some water levels are said to be the lowest recorded in 90 years.  
"In 2015, there was lower than average rainfall during the rainy season which ended two months earlier than in previous years," her report quotes Phan Duy Le, vice-chair of one commune in the Mekong Delta coastal province of Ben Tre province, as saying.
"Water shortage has been compounded by saltwater intrusion. Salinity is four times higher than seasonal averages."
The Vietnam Red Cross Society has released nearly US$ 200,000 from its emergency fund to support 11,000 households with bottled water, containers and purification tablets; the IFRC on Friday it had released a similar amount from its Disaster Relief Emergency Fund.
'Bad El Niño'
In Africa, in the most recent of a series of reports on Lesotho, Thea Rabe of the Norwegian Red Cross wrote last week that "lack of rain combined with the worst El Niño to hit the region in 35 years has left…534,000 people in desperate need of food".
A 1 April emergency appeal worth just over US$ 1.5m by the IFRC will support the Burundi Red Cross Society (BRCS) in addressing the developing complex emergency in the country.
The appeal text said that, in particular, "high levels of internal displacement combined with the impacts of this year's strong El Niño phenomenon, has exposed communities…to floods, rising levels of food insecurity and rising rates of cholera and malaria.
"Since September 2015, a bad El Niño season has brought extensive rains, winds, landslides and floods to 15 of the country's 18 provinces," some not normally affected by floods; as of mid-February, 63 deaths have been recorded.
Under an agreement on coordination within the Red Cross Red Crescent Movement, the ICRC will focus on the impacts of civil unrest while the other emergencies are addressed by the IFRC and National Societies.
"For the El Niño operation and the political violence, the BRCS has been sharing its rapid assessment findings in a daily sitrep, published on its website," the IFRC appeal added.
Natural variability
Red Cross Red Crescent disaster managers who want to track seasonal forecasts for their countries and regions – including possible El Niño impacts – can register for the new country notification service provide by the IFRC's forecasting partners at the International Research Institute for Climate and Society (IRI).
El Niño is a natural part of climate variability and refers to warmer-than-average periods in the equatorial Pacific; it's the opposite of cold La Niña events.
IRI has just posted full reports and transcripts from the November 17–18 global conference on El Niño that also marked its own 20th anniversary.
This came just ahead of the exact peak – in terms of Pacific Ocean temperature – of what IRI Director and Senior Research Scientist Lisa Goddard, a recognized world expert on El Niño/La Niña, called in her introduction "one of the largest El Niño events of the last 50 years, and notably the largest since the 1997–98 El Niño that shocked global food, water, health, energy and disaster-response systems and erased years of development gains."
Burundian refugee women pound cassava in the Nyarugusu camp in Kigoma, Tanzania. The Red Cross Red Crescent Movement is jointly tacking a "complex emergency" in Burundi, where El Niño is cited as a major contributory factor. (Photo: Lynette Kamau/ICRC)