Coral bleaching on Great Barrier Reef 'the worst in its history', say Australian scientists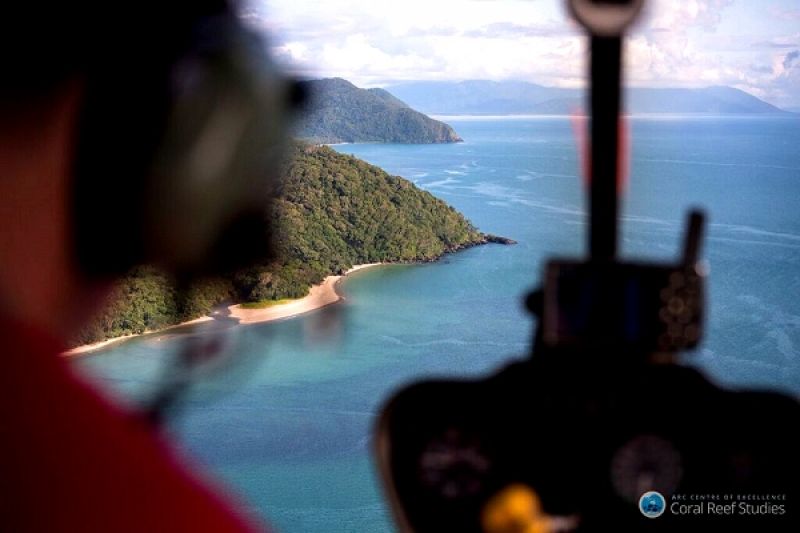 6 April 2016
Aerial surveys between Cairns, in northern Queensland, and Papua New Guinea show the Great Barrier Reef is experiencing the "worst, mass bleaching event in its history, with the overwhelming majority of reefs being ranked in the most severe bleaching category," Australian scientists have found.
A team of scientists working with the Australian Research Council's (ARC) Centre of Excellence for Coral Reef Studies said last week they had flown over more 500 coral reefs on "the most pristine section" of the Great Barrier Reef (photo).
"Almost without exception, every reef we flew across showed consistently high levels of bleaching, from the reef slope right up onto the top of the reef," said Professor Terry Hughes, convenor of the National Coral Bleaching Taskforce, in an ARC press release.
"We flew for 4000 kilometres…and saw only four reefs that had no bleaching. The severity is much greater than in earlier bleaching events in 2002 or 1998."
'Saddest trip'
He said the ARC team would be conducting more flights in the central Great Barrier Reef to identify where bleaching stopped, but the southern Reef had "dodged a bullet due to cloudy weather that cooled the water temperatures down".
Professor Hughes added: "This has been the saddest research trip of my life."
Research vessels and island stations were also documenting the coral bleaching, the ARC statement said, confirming what had been seen from the air: that the majority of reefs north of Cairns are undergoing bleaching and that virtually all species of coral are affected.
"We could see extensive bleaching even among the most robust 'massive' corals," says James Kerry, Project Manager of the National Coral Bleaching Taskforce, who flew with the aerial surveys.
"The fact that these hardy species have also turned white shows just how severe summer conditions have become on the northern [Great Barrier Reef].
"Residents we spoke to in Cape York were shocked by what they are seeing, telling us that they had never experienced anything like this before."
Coral bleaching occurs when abnormal conditions like higher sea temperatures cause corals to expel colourful algae called zooxanthellae, causing them to turn white or 'bleach', according to a note on the ARC website; coral may die unless the temperature drops.
Fisheries and tourism
"This year, the combination of El Niño, climate change, and an extended period of hot summer days when the tide was exceptionally low has caused many of the corals that survived last year's cyclone to lose their symbiotic algae and start bleaching," said ARC Senior Research Fellow, Dr Jodie Rummer, in a statement earlier this month.
"In 1998, the world lost 16 per cent of its corals in a single global event of mass coral bleaching caused by an El Niño cycle," a study of ocean acidification by Pacific-based Climate Centre specialists said in 2012.
"While this phenomenon was a natural event, it served as an additional stressor that compounded general warming trends," it added, "[and] could become commonplace within 20 years due to continued warming beyond the temperature tolerance range of corals."
The loss of coral reefs could be devastating for the ocean, the Climate Centre study concluded, in particular for the fisheries and tourism that coastal and island peoples depend upon worldwide.
The Australian Red Cross has humanitarian and development programmes across the Pacific region.
Australian scientists flying over the Great Barrier Reef assess coral bleaching. They said Tuesday that a "small flotilla" of research vessels would now back up the aerial surveys to document coral bleaching along the 1000-kilometre northern half of the Great Barrier Reef, before more of the heavily bleached corals die. (Photo: ARC)