Ghana handwashing game used in schools in Central Region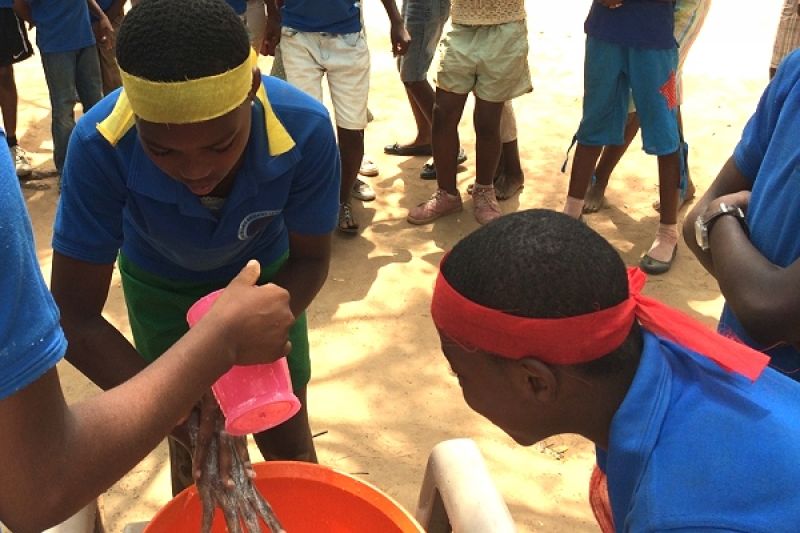 24 March 2016
The Ghana Education Service and Red Cross and the Climate Centre earlier this month joined forces with UNICEF, Boston, Massachusetts-based Emerson College, and Right To Play to finalize a new game to highlight the importance of handwashing to schoolchildren.
Seventy-five children joined facilitators in Akosombo, in south-west Ghana, for an intensive three-day public-health session – the second of its kind this year – to design and develop Handwashing with Ananse, due to be rolled out in Ghanaian primary schools countrywide.
Ananse is a character from African folklore who often takes the form of a wily spider.
The handwashing game has now been introduced in schools in the municipality of Komenda-Edina-Eguafo-Abirem in the country's Central Region.
It uses traditional storytelling, song and dance to encourage children to wash their hands with soap – crucial in the context of climate-related extreme events like floods and droughts; specifically it teaches children why, how and when to wash their hands.
Some 12,000 Ghanaian children die each year from diseases that could be reduced or prevented by handwashing with soap, according to UNICEF Ghana.
Illnesses like cholera and other diarrhoeal disease could also worsen in a changing climate.
'Equal and important'
Handwashing with Ananse will undergo a field evaluation this year that will test its effectiveness.
The Ghana Red Cross Society (GRCS) and local partners plan to use the game methodology across the country; the Akosombo session was attended by GRCS National Youth Coordinator Ernest Nyame Annan.
"We can use simple games to make people better understand, grasp and remember causes and solutions to problematic issues," said Samuel Kofi Addo, GRCS Secretary General at another children's workshop on handwashing last year.
"Games remove hierarchy, and make everybody feel equal and important as part of the team."
A total of some 600 Ghanaian children have been involved in the game-design process so far.
Schoolchildren joined public-health partners including the Ghana Red Cross in Akosombo for an intensive workshop to design and develop Handwashing with Ananse – a new game that uses storytelling, song and dance to encourage children to wash their hands with soap. (Photo: Climate Centre)