Humanity faces a 'hotter, drier, wetter' future, says World Meteorological Organization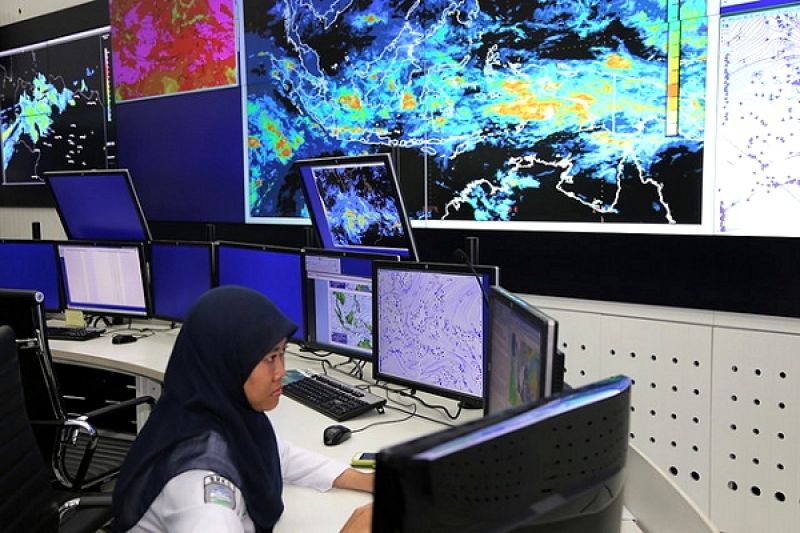 23 March 2016
The World Meteorological Organization – which today marks the anniversary of the 1950 convention establishing the WMO – says last year made climate history "with shattered temperature records, intense heatwaves, exceptional rainfall, devastating drought and unusual tropical cyclone activity."
The WMO Statement on the Status of the Global Climate in 2015, released just ahead of World Meteorological Day, details "record land and sea surface temperatures, unabated ocean warming and sea-level rise, shrinking sea-ice extent, and extreme-weather events around the world," according to a press release from the organization, an IFRC partner agency since 2013.
The theme of this year's special day is: Hotter, drier, wetter. Face the Future.
"The future is happening now," said WMO Secretary-General Petteri Taalas.
"The alarming rate of change we are now witnessing in our climate as a result of greenhouse gas emissions is unprecedented in modern records," said Mr Taalas.
The global average temperature in 2015 broke all previous records by a wide margin at 0.76° Celsius above a 1961–90 baseline average, both because of a strong El Niño and global warming, says the WMO; greenhouse gas concentrations "crossed the symbolic and significant 400 parts per million threshold".
'Powerful message'
The records continued to tumble in January and February of this year, with the latter being the most abnormally warm month since global records began in 1880.
"The startlingly high temperatures so far in 2016 have sent shockwaves around the climate-science community," said David Carlson, Director of the World Climate Research Programme, sponsored by WMO.
"Our planet is sending a powerful message to world leaders to sign and implement the Paris agreement on climate change and cut greenhouse gases now before we pass the point of no return," added Mr Taalas.
"Today the Earth is already 1°C hotter than at the start of the twentieth century. We are halfway to the critical 2°C threshold."
Mr Taalas also stressed that in addition to mitigation, it was essential to strengthen adaptation by investing in early warning and climate services like tools to manage droughts, floods and heatwaves.
'Agreed actions'
In its own most recent high-level statement on climate, the IFRC said the agreement at the COP 21 UN climate talks in Paris was a "critical milestone that shows an appropriate balance between climate change mitigation and adaptation."
Calling for greater global investment in resilience, Garry Conille, IFRC Under-Secretary General for Programmes and Operations, said: "Our volunteers are standing on the front line and witnessing how climate risks are disproportionately affecting the most vulnerable communities in the world."
Of the trajectory of events last year, Climate Centre Director Maarten van Aalst said 2015 was indeed historic, "breaking many records in the climate system and highlighting the challenges we face.
"But it was also a momentous year in terms of agreed actions to address those challenges – ranging from Paris to the One Billion Coalition, and including breakthroughs in the field such as the rolling out by the Red Cross Red Crescent in Africa and Latin America of Forecast-based Financing.
"The climate trends detailed in the WMO report show up in the short term as headline records, like the 2015 summer heatwave in Europe – something we flag in our work on World Weather Attribution in line with the Climate Centre's overall humanitarian role of providing scientific insights in the right place at the right time."
World Meteorological Day every 23 March is intended to showcase the contribution to society of national meteorological and hydrological services, many of which around the world are partners for Red Cross Red Crescent National Societies.
Unusual events
Among key findings in the WMO 2015 climate report:
*Global ocean heat was at a record high at both the 700- and 2,000-metre levels, while sea levels measured by satellites and tide gauges were the highest ever.
*Arctic sea ice just over a year ago was the lowest on record (until a new record this year), and its minimum extent last September was the fourth-lowest ever.
*Many countries saw intense heatwaves, and for their impact on people the most devastating were in India and Pakistan; Western and Central Europe recorded an exceptionally long summer heatwave.
*Global precipitation in 2015 was close to the long-term average, but there were many cases of extreme rainfall, with 24-hour totals large enough to exceed an average total for an entire month.
*Severe drought affected southern Africa while El Niño-induced drought exacerbated forest fires in Indonesia.
*The number of tropical storms was not far from the average, but some unusual events were recorded, like Tropical Cyclone Pam and Hurricane Patricia; an extremely rare tropical cyclone, Chapala, also made landfall in Yemen at the start of November.
An Indonesian meteorologist at her work station in the country's Meteorological and Geophysical Agency (BMKG) last month. The picture is part of the Women in Action series issued recently by the WMO to commemorate the work of women meteorologists, oceanographers and climate scientists. (Photo: WMO via Flickr)