Record February global temperature shocks scientists, impacts Pacific fisheries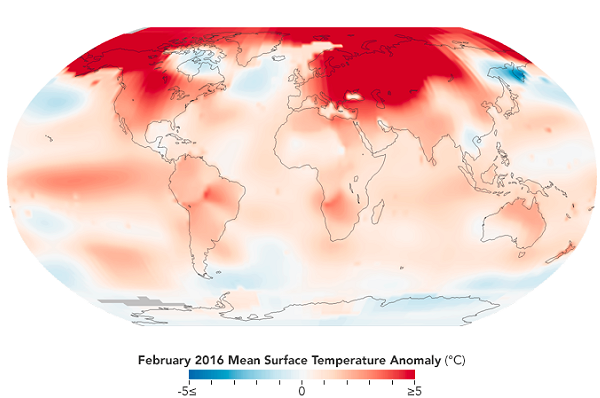 22 March 2016
February has set a record for being the most abnormally warm month since global records began in 1880.
Data released by NASA's Goddard Institute for Space Studies earlier this month showed last month was 1.35°C warmer than a 1951–1980 baseline average. 
This beats the previous February record set in 1998, also during a strong El Niño, by 0.5°C.   
Data from the US  National Oceanic and Atmospheric Administration (NOAA) confirms the record, which surprised climate experts, who are cautious about commenting on monthly data due to difficulties in separating short-term weather from climate trends.
One described the anomaly as "astounding".
'Strong El Niño' 
February was also "the tenth consecutive month a monthly global temperature record has been broken," NOAA added.
A warm year was to be expected because of El Niño, but scientists involved with the World Weather Attribution project say climate change is a major factor.
"According to a simple analysis, the most important factor is global warming, which the IPCC have showed to be mainly caused by emissions of greenhouse gases," said Geert Jan van Oldenborgh, climate researcher at the Royal Netherlands Meteorological Institute.  
"This contributed between 0.9°C and 1.0°C in temperature difference to what was normal 150 years ago. Then the strong El Niño was responsible for another 0.2°C to 0.3°C of warming. 
"And thirdly there are the effects of ordinary weather.
The record temperatures come shortly after agreement at the COP 21 UN climate talks in Paris on keeping the rise in global temperatures "well below" 2.0°C above pre-industrial times. 
Converging impacts
In Vanuatu, meanwhile, the Meteorology and Geohazards Department has publicly warned that record high temperatures are threatening marine life and causing coral bleaching. 
Hundreds of dead fish were washed ashore on the island of Efate in Vanuatu and the coast of Fiji during February, linked to abnormally high sea-surface temperatures caused by El Niño and climate change.  
Fish deaths and coral bleaching have significant implications for livelihoods in Vanuatu and Fiji, combined with the now-converging impacts of Cyclones Pam and Winston and drought linked to El Niño. 
Vanuatu itself had its hottest day in recorded history last month: A temperature of 37.5°C was registered at the Lamap weather station on the island of Malekula.
Global average temperature "deviated more from normal than any month on record" in February, according to the latest analysis of its data by NASA's Goddard Institute for Space Studies. (Image: NASA-GISS)