El Niño complicates Cyclone Pam recovery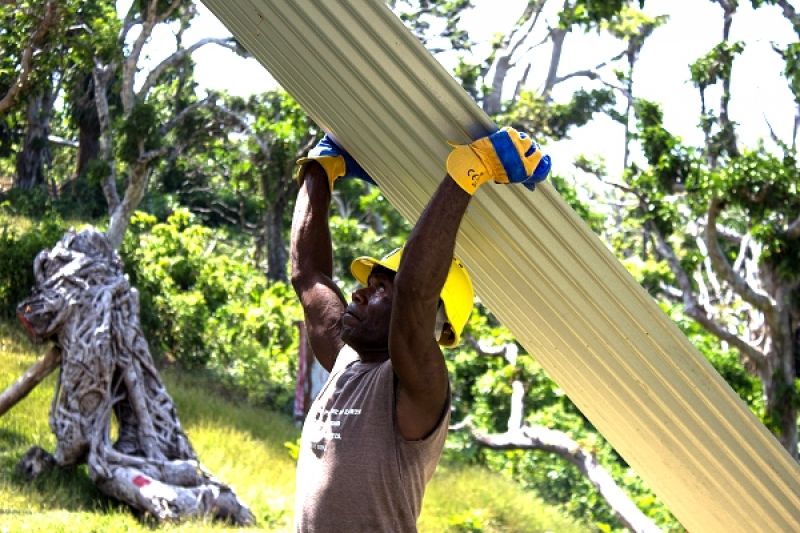 18 March 2016
(This story first ran earlier this week on ifrc.org. The opening a year ago of the of the UN World Conference on Disaster Risk Reduction was overshadowed by Cyclone Pam making landfall in Pacific island nations.)
A year ago on 13 March 2015 Cyclone Pam tore through the Pacific island nation of Vanuatu. The Category Five storm left immense damage in its wake affecting more than 200,000 people across five countries.
Although Vanuatu bore the brunt of the disaster, Tuvalu, Kiribati, the Solomon Islands and Papua New Guinea were also severely impacted.
The IFRC launched a major international response, working closely with National Red Cross Societies across the affected region. Within the first six months of its relief and operation across the five countries, 44,000 people had been reached with humanitarian assistance.
Despite having losses themselves, hundreds of local Red Cross volunteers formed the vanguard of early relief efforts, ensuring essential relief items were distributed to people in need.
Water harvesting
In Vanuatu, Nelly, 33, and husband Gaetan, both volunteers, lost three close relatives and their house during the cyclone.
"I felt very sad and I cried with my children," said Nelly. Yet within days of the storm, they were at the Red Cross branch in Tanna, ready to lend a helping hand.
"After some training we went out into the community and delivered things like spades, hammers and nails to help people repair their homes."
Across all five countries Red Cross volunteers have been engaged in a range of recovery programmes ranging from safe-shelter training to restoration of household water harvesting systems and education and awareness in good health and hygiene practises to prevent the spread of disease.
In Vanuatu, 18,000 homes were seriously damaged by the cyclone and there was extensive damage to local infrastructure. In the isolated island community of Buninga, a Vanuatu Red Cross team is working alongside a team of community volunteers to repair the roof of a primary school (photo).
Skills and knowledge
"It's a big job," says Head teacher at Senecol Primary School, Joe Simeon. "I want to thank the Red Cross one hundred times over for the materials that helped to reconstruct the school. The community is privileged to have a very strong classroom now and they can use it as a safe house during the next cyclone".
A year on and people continue to rebuild their homes. While many of them now have the skills and knowledge about how to build back safer and stronger homes, they might not have the money to afford the materials needed to rebuild.
The complex logistics and expense involved in procuring and transporting quality building materials to remote islands and communities in Vanuatu, makes repairing or rebuilding homes particularly challenging.
"Making strong houses doesn't have to be expensive, it's more about making strong connections between the various parts of the building using the best materials on hand, installing cross bracing, building good foundations and choosing a safe site", said Robbie Dodds, IFRC shelter delegate, who has been helping villagers adapt the design of the local Tanna House or nimulaten.
"With locally available materials, a few extra pieces of timber, fixings such as nails and bush rope and a bit of technical knowhow, the strength and resistance against cyclones of any house in Vanuatu can be greatly increased", said Dodds.
Stocks
The impacts of this year's El Niño event has made it doubly difficult for some people to recover. Many island communities have been struggling with serious food and water shortages caused by drought-like conditions.
The drought has definitely increased people's vulnerability", said Xavier Castellanos, the IFRC's regional director for Asia Pacific. "Their gardens have not been growing, water is scarce and they've spent all their money on rebuilding houses, so they have little money to spend on other foodstuffs".
Preparing communities for future disasters has been a key component of recovery efforts and the IFRC has pre-positioned disaster preparedness stocks for approximately 1,774 households across all the countries affected by Cyclone Pam.
Relief goods such as jerrycans to collect clean water, pots and pans for cooking and tarpaulins for shelter have been placed in strategic locations across the region.
"These relief supplies will enable the most vulnerable people to get the support they need as quickly as possible when any disaster strikes," said Vanuatu Red Cross CEO, Jacqueline De Gaillande.
Exactly a year after Cyclone Pam swept through Vanuatu, the Red Cross continues to assist affected communities – here in the remote island of Buninga, for example, where local volunteers and specialist delegates worked with community members to fix the school roof in time for the start of the school year. The work was seen as heralding a new beginning for Buninga. (Photo: Vanuatu Red Cross via IFRC)