Climate change has 'profound effects on disease vectors', says UN risk-reduction chief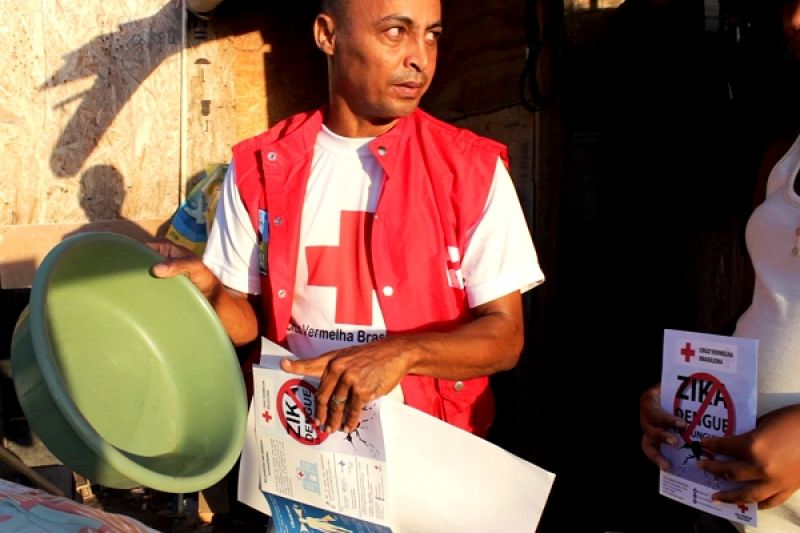 14 March 2016
Government officials and risk-management experts on Friday called for health resilience to be placed at the heart of managing disaster risk in the face of crises such as the Zika virus.
The call came at the end of a two-day international conference in Bangkok on implementing health aspects of the Sendai Framework for Disaster Risk Reduction, organized by the Thai government, the United Nations Office for Disaster Risk Reduction (UNISDR) and the World Health Organization (WHO).
Thani Thongphakdi, Permanent Representative of Thailand to the UN, who chaired the conference, said of seven new "Bangkok Principles" agreed in the Thai capital: "We have a good document that provides guidance and a set of recommendations as countries move forward to consider how best to implement the…Sendai Framework."
Biological hazards were "part of the new normal and are here to stay", said Bruce Aylward, WHO's acting director for outbreaks and health emergencies.
Community workers
The new principles are intended to "promote systematic cooperation, integration and, ultimately, coherence between disaster and health risk management," according to a report on the conference by Andy McElroy of UNISDR's Asia-Pacific team.
"The principles build on the commonality between the two realms, such as the shared need for risk assessment, surveillance and early-warning systems, resilient infrastructure, and coordinated incident management."
The Ebola epidemic in West Africa and the Zika virus outbreak both demonstrated the need for a multi-hazard approach to resilience.
The Bangkok conference was also attended by IFRC Secterary General Elhadj As Sy, who called for more emphasis to be placed on community health-workers and volunteers in responding to epidemics.
"Community-based volunteers have a critical role to play in responding to disease outbreaks…They are also able to provide tailored, and culturally appropriate services, bridging the gaps that often exist between health systems and vulnerable communities," an IFRC press release quoted him saying.
Robert Glasser, who took over as head of UNISDR from Sweden's Margareta Wahlstrom late last year, said in opening remarks: "Bearing in mind that thousands of people died in heatwaves last year and that climate change is having profound effects on disease vectors, this meeting is also an important opportunity to see how we can plan for better health outcomes when we are facing more extreme weather events and significant environmental changes.
"We need to examine measures that national disaster management agencies and other actors can take to ensure that public health personnel and infrastructure including health outposts, clinics and hospitals are protected from man-made and natural hazards."
'Cascading impacts'
All the targets in the Sendai framework could be interpreted as having a direct bearing on health, according to Mr Glasser.
But there were two key challenges: to bring about a "paradigm shift" from managing disasters to managing risks, and to make health a key focus for disaster risk reduction.
Mr Glasser said that in a connected world, natural hazards could trigger health crises or technological disasters: "Cascading impacts from one event can multiply and expand the numbers of people affected in unforeseen ways."
This was true of the 2011 'Great East Japanese Earthquake'. Floods in Malawi last year, meanwhile, had knocked out health facilities, destroyed patient records and personal stocks of life-saving medication, Mr Glasser recalled.
Lives were saved in Malawi thanks to effective early warnings, he said, "but the secondary impacts showed up severe shortcomings in protecting health infrastructure".
Mr Glasser added that the hope now was for the Bangkok conference to help meet the new global goals for sustainable development as well as the Paris climate agreement.
Brazilian Red Cross volunteers, who have developed an information campaign on Zika, work to eliminate potential mosquito-breeding sites in coastal Alagoas state by advising households against letting water stand in the open. "Virtually all vector-borne diseases have a climate dimension," says Madeleine Thomson, Senior Research Scientist at the International Research Institute for Climate and Society. "Temperature drives the rate at which vectors and pathogens develop, while rainfall often supports the creation of sites for the vectors to breed." (Photo: Miguel Domingo Garcia via IFRC)