Mongolian dzud disaster echoes 2011 SREX report on extremes, prompting new climate uncertainty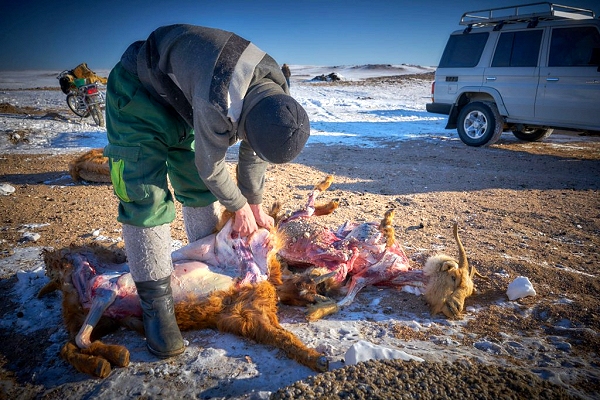 11 March 2016
Many thousands of animals could starve over the next few weeks on Mongolia's vast steppe where mid-winter temperatures have fallen as low as minus 55 degrees Celsius in a new dzud disaster, depriving vulnerable herders of their only livelihood.
"Extreme temperatures, snow storms and heavy snowfall, and in many areas a thick layer of ice are preventing livestock from grazing efficiently," writes IFRC regional communications delegate, Hler Gudjonsson, from Mongolia.
"These conditions have been compounded by the effects of last summer's drought, which has left pastures in very bad condition."
Dzuds, an example of a 'compound hazard', were among 14 case studies in the IPCC's 2011 Special Report on Managing the Risks of Extreme Weather Events, or 'SREX', which said one thing all the studies had in common was the need for greater information on risks and early warnings.
Another factor was that "it is better to invest in preventative…plans, strategies, and tools for adaptation than in response to extreme events".
Hay and fodder
Dzuds encompass "drought, heavy snow, extreme cold, and windstorms [and] can last all year round and can cause mass livestock mortality and dramatic socio-economic impacts," the IPCC said.
SREX quoted studies that found the "most critical consequences of dzuds are increased poverty and mass migration from rural to urban and from remote to central regions". 
The Secretary General of the Mongolian Red Cross Society (MRCS), Nordov Bolormaa, last month said the situation was becoming "truly alarming".
She added: "Based on assessments by our National Disaster Response Team, the most vulnerable herders are in desperate need of cash, food and warm clothes to face the challenges of the extreme-winter conditions." 
The IFRC last week launched an emergency appeal for more than US$ 800,000 to enable the MRCS to assist 5,100 households for a year, focusing on food and cash to enable herders to buy fodder and other essentials.
Its appeal says climate adaptation will be taken into consideration during the recovery phase of the operation by providing herders with the "skills, knowledge and confidence to build more diverse livelihoods"; their vulnerability to future dzuds would be reduced through better collection and storage of hay and fodder, as well as vocational training for alternative livelihoods.
Attribution
The Mongolian government formally declared "extreme-winter conditions" late last year, and in mid-January the IFRC released nearly $US 160,000 from its Disaster Relief Emergency Fund for cash and food for 1,500 of the worst-affected families.
The current dzud is now expected to be incorporated into the World Weather Attribution programme in which scientists will try to quantify any possible links to climate change.
"It's difficult to make a general statement about dzuds and climate because the meteorological causes of the mass deaths of livestock involved vary between drought, cold and snow, or combinations," says Climate Centre Technical Adviser Roop Singh, who also provides forecast support to Red Cross Red Crescent disaster managers through the IFRC-IRI helpdesk. 
Climate Centre Director Maarten van Aaalst adds: "Climate change is certainly contributing to rising uncertainty about what to expect in this region, calling for greater investments in risk reduction and preparedness for events such as the current dzud disaster."
On Tuesday IRIN news, in a special report on the dzud by Joanna Chiu in Mongolia, quoted the head of climate research at the country's Information and Research Institute of Meteorology, Hydrology and Environment, Gomboluudev Purevjav, as saying: "Global warming is causing about 50 per cent of the problems and local forces cause the other 50 per cent."
A Mongolian herder skins a dead goat. Many thousands of animals are at risk from the latest dzud disaster in Mongolia, where grazing already affected by a summer drought is now buried under heavy snow. (Photo: World Animal Protection via IFRC)