Winston may be Southern Hemisphere's strongest-ever cyclone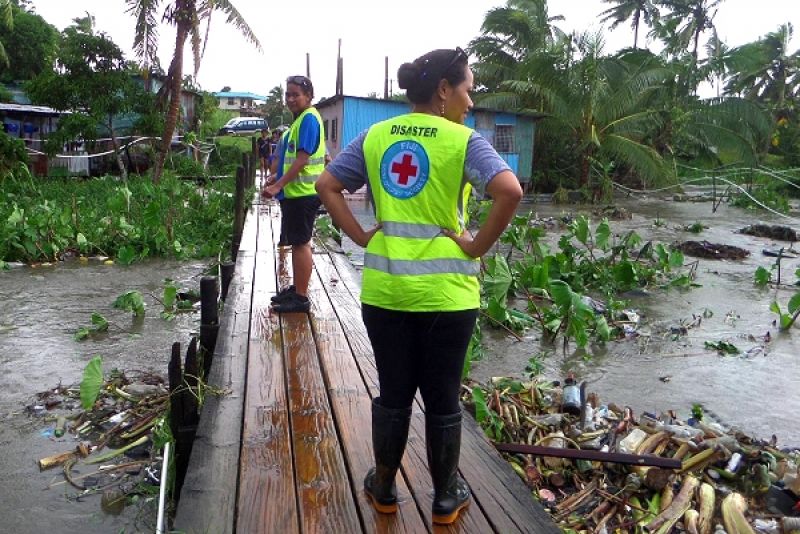 24 February 2016
With sustained winds of 230 kph and gusts of 325 kph – capable of blowing away houses, uprooting trees and turning large objects into missiles – Tropical Cyclone Winston was certainly the strongest storm ever recorded in Fiji.
One report says the associated 'storm surge' – the wall of water that cyclones push inland from the coast – was as high as three metres in some parts of the island nation.
Scientists say global sea levels have risen because of climate change, and this would make any storm surge bigger and more destructive.
The Fijian government has declared a 30-day state of emergency and the Fiji Red Cross Society (FRCS), which has launched a national appeal and is coordinating closely with the National Disaster Management Office, mobilized over 300 staff and volunteers to support relief efforts.
The IFRC quickly released money from its Disaster Response Emergency Fund.
The storm claimed 28 lives, according to the UN yesterday, and displaced some 14,000 people; entire villages were destroyed on the island of Koro.
Warmer waters
Taking an unusual and unpredictable course, Winston formed as a tropical cyclone east of Vanuatu before tracking south then north-east, swiping Tonga as a Category 2 en route.
On 17 February, it doubled back on itself and passed straight over Fiji, before turning left and crossing its own track.
Winston may have gained strength from a combination of low wind shear in the atmosphere that would otherwise tend to disrupt storms and unusually warm waters that fuel them.
Sea temperatures in the area – as high as 31 degrees Celsius – were among the warmest in the Pacific Ocean.
While scientists will need time to confirm any role for climate change or El Niño in Winston, both will have helped the warm ocean conditions that allowed the storm to strengthen to a Category 5.
'Elevated risk'
The ongoing El Niño probably raised the temperature of the eastern and central Pacific Ocean, especially near the International Dateline where this storm built.
In October, Fijian meteorologists warned of an "elevated risk" of tropical cyclones – noting the increased frequency of cyclones in the south-west Pacific during El Niños.
Tropical Cyclone Winston follows an extraordinary year for storms, with nine Category 5s recorded, the second-highest total in history.
By wind speed Winston may have been the strongest storm ever recorded in the Southern Hemisphere – a record that was broken in the Northern Hemisphere by Hurricane Patricia only five months ago.
The Hawaii-based US Joint Typhoon Warning Center will in due course confirm whether initial estimates of Winston's winds exceed that of the current record holders: Cyclone Zoe in 2002 and Cyclone Monica in 2006.
"In the coming days our teams will make sure that people are safe and that they have the help they need to get through the weeks ahead," said Eseroma Ledua, Operations Manager at the Fiji Red Cross this week.
The Red Cross response to Winston will initially focus on assessments in areas where the storm caused significant damage including Rakiraki, Ba and Tavua in the north of Fiji's main island, Viti Levu. (Photo: Fiji Red Cross via Twitter)