Protecting water supplies during floods: a BRACED case study from Myanmar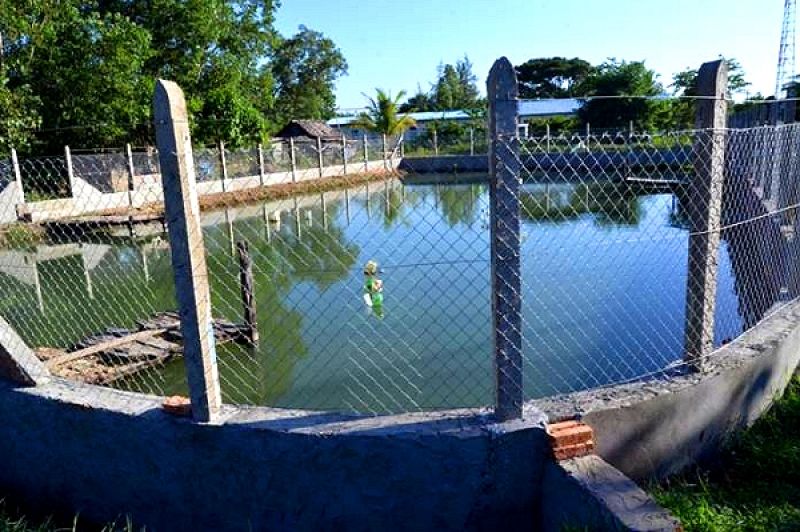 9 February 2016
(This story, slightly edited here for length, appeared first on the BRACED website. In its own operation for last year's floods, the Myanmar Red Cross, assisted by the Red Cross Red Crescent Movement, has now helped more than 400,000 people with both relief and recovery.)
Daw Mi Naw, a mother of five children from Zeyar Thiri village in Mawlamyine township, in south-east Myanmar, is happy to have access to clean drinking water even in flood periods, thanks to a newly renovated, flood-proof water pond at the centre of her ward.
About 300 households now have enough clean water for drinking and household use throughout the year after World Vision, through the BRACED programme, supported the work.
Zeyar Thiri village is located at the bank of the Ataran River, which is highly vulnerable to summer floods when the river overflows.
Villagers used to face severe shortages of water for drinking and household use during floods, when crucial water sources were contaminated.
Over the past year since the pond was renovated, Naw and other village women said significantly fewer children in the village have suffered diarrhoea and other water-borne illnesses.
Shocks and stresses
Households in the village used to spend up to 9,000 Burmese kyats per month (around US$ 7) for drinking water during the six-month monsoon season each year; the pond improvements are expected to significantly reduce those costs.
Improvements to the footpath around the pond and the widening of its sides also has improved safety for children, elderly people and those living with disabilities, who can now more safely fetch water when other household members are busy.
Villagers acknowledge that these achievements have been made through the collective efforts of the people themselves, local government institutions, and the BRACED project, working in partnership to improve resilience to climate shocks and stresses.
World Vision helped community members and local government use the step-by-step guidance in the Myanmar Alliance Community Resilience Assessment and Action Handbook, developed by the BRACED Alliance Coordination Unit.
The community's prioritization of activities identified the renovation of the water pond as a key resilience solution.
Excavator
The information supplied by Zeyar Thiri villagers and a community-based partner organization showed that the BRACED work ensured access to clean water for 300 households year-round, even during severe flooding, for a cost per household of around US$ 7.
In addition to renovation, the community identified further resilience-strengthening solutions.
BRACED has supported the villagers to improve their knowledge and skills, helped them build a community flood-drainage system and footpaths, and provided boats to help them cope during floods.
The project has additionally coordinated with local government to provide an excavator to complete major earthworks for the drainage system and footpaths, with community members contributing voluntary labour and BRACED providing technical advice and construction materials.
U Thaung Shwe, director of the Relief and Resettlement Department of the Mon state government, said he acknowledges the impact of BRACED assistances at Zeyar Thiri, and reiterated his commitment to extend the partnership with BRACED.
A view of the new water pond at Zeyar Thiri village after the upgrading work. (Photo: Jeremy Stone/BRACED Myanmar Alliance Coordinator)