Forecasters: drought in Southern Africa to continue for several months at least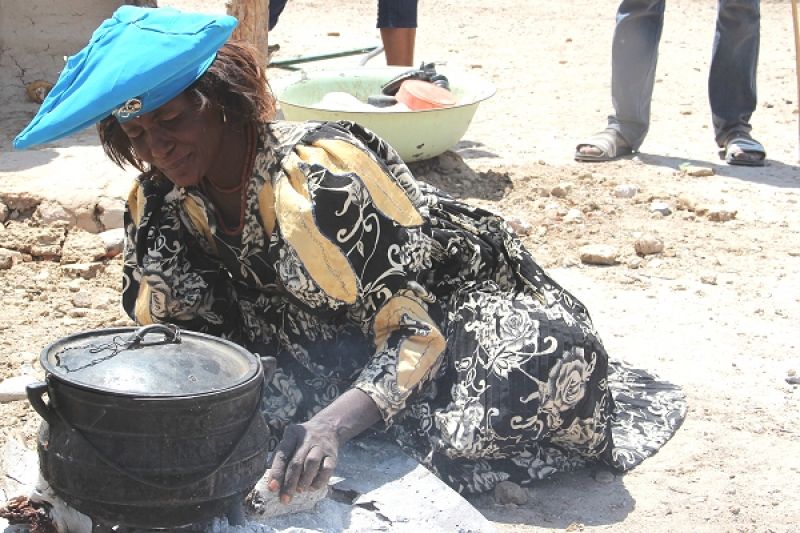 25 January 2016
The Famine Early Warning Systems Network (FEWS NET) – a leading global provider of early warning and analysis on food insecurity – Friday issued an Alert saying severe drought in Southern Africa is "expected to drive large food assistance needs" this year and next.
"The first half of the 2015–16 agricultural season has been extremely poor across the Southern Africa region, largely due to the ongoing El Niño, one of the strongest on record," says the US-based agency's bulletin.
In maize-producing parts of South Africa, seasonal rains were more than 50 days late, and up to 40 days late in southern Mozambique and northern Namibia; rains also came up to 30 days late in parts of Malawi.
An estimated 2.5 million people were now in the IPC Phase 3 category – defined as "acute food and livelihood crisis" – in Malawi, Zimbabwe, Mozambique, Madagascar and Lesotho.
FEWS NET cites several seasonal forecasts, including the International Federation's climate-science partners IRI, as saying El Niño is expected to persist for four to six months.
It concludes: "In the medium term, humanitarian partners should begin contingency planning given that…the size of the food-insecure population in Southern Africa may reach their highest levels since the 2002–03 food crisis."
'Climate impacts'
In their seasonal forecast briefing last week, IRI say El Niño has passed its peak in terms of Pacific sea-surface temperatures but the event is "expected to stay strong, with climate impacts likely for the first few months of 2016."
IRI Chief Forecaster Tony Barnston said El Niño would probably go back to neutral in May or June, but there was still "plenty of opportunity for climate effects around the globe".
In one of the first uses of forecast-based financing for humanitarian response in Africa, funds were recently released in Zimbabwe to combat El Niño-related drought impacts as part of the World Food Programme's Food Security Climate Resilience Facility.
*
The IFRC's September 2015 emergency appeal for Namibia for just under a million US dollars, which has three months left to run, meanwhile, says the country is experiencing "chronic food insecurity, mostly affecting rural communities" but is only 9 per cent funded, Rosemary Nalisa of the Namibia Red Cross Society reports.
Namibia's drought crisis is affecting more than 370,000 people and taking its hardest toll on women and children often left to fend for themselves.
Food scarcity is evident across the country where people are mostly subsistence and pastoralist farmers, dependent on rain for cropping and rearing animals.
Recent rains in many parts of the country, including the Kunene region, where the Namibia Red Cross is running a soup kitchen for the most vulnerable people, have had little effect in improving pastures and crops.
The stench of rotting cattle carcasses fills the air, while hides and bones litter the flat, wide-open landscape and valleys.
One meal
The Mbunguha family has lost close to 100 head of cattle over the past seven months, while many remaining cows are too weak to leave the homestead to seek grazing areas or water.
Mariru Mbunguha, 61, bends slowly towards a pot containing thin porridge, the only meal of the day for her family of ten. "In order for us to survive we have reduced our meals to one," she says.
"Sometimes only the children are able to eat while adults go to bed hungry.
"We are hoping for the rains to come sooner so that we can start ploughing and the condition of our animals can improve."
Mbunguha helps work the family farm and receives a monthly pension worth about 100 US dollars, but she has many mouths to feed including her grandchildren and other adopted family members.
"We are cattle farmers and in normal times we live on milk and meat from our animals to sustain ourselves and take our kids to school.
"Over the past five years we have lost many of our animals and our livelihoods have been badly affected.
"This year is the worst. Our cattle are dying like flies."
Mariru Mbunguha, 61, cooks stews a thin porridge – the only meal for the day her family of ten will have. "We are hoping for the rains to come sooner," she says, "so that we can start ploughing and the condition of our animals can improve." (Photo: Rosemary Nalisa, Namibia Red Cross Society)