IFRC releases climate e-learning course in four more languages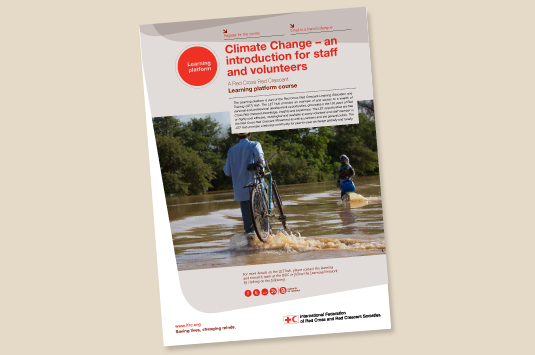 21 January 2016
The IFRC's Community Preparedness and Risk Reduction Department yesterday announced that the e-learning course Climate Change – an introduction for staff and volunteers is now available online in all five standard languages.
Introductory videos in Arabic, English, French, Russian and Spanish can also be viewed on YouTube.
The course is designed for smartphones, tablets and desktops and lasts 30 minutes.
First launched in March 2014, the climate course was developed for Red Cross Red Crescent staff and volunteers who have limited knowledge of climate change or none.
"Through this course, staff and volunteers will learn about the root causes and consequences of climate change and how to help address these issues in their day-to-day work with communities," Dr Meinrad Burer, IFRC Senior Officer for Climate Change Mitigation, said then.
Learning platform
The course's five modules include background on the causes and impacts of climate change, highlighting the work of the Red Cross Red Crescent, case studies on how climate is mainstreamed into programming, and advice on how staff and volunteers can help.
The IFRC learning platform is part of its Learning, Education and Training hub that links visitors to personal and professional development opportunities grounded in a century and a half of Movement experience of working with communities.
Other courses include health and first aid, restoring family links, psychosocial support and humanitarian diplomacy.
The climate e-learning course was originally made possible with the support of the Canadian and Norwegian Red Cross, and included input from the Climate Centre.