UN and Red Cross Red Crescent systems step up appeals for worsening drought and 'El Niño shocks' in Ethiopia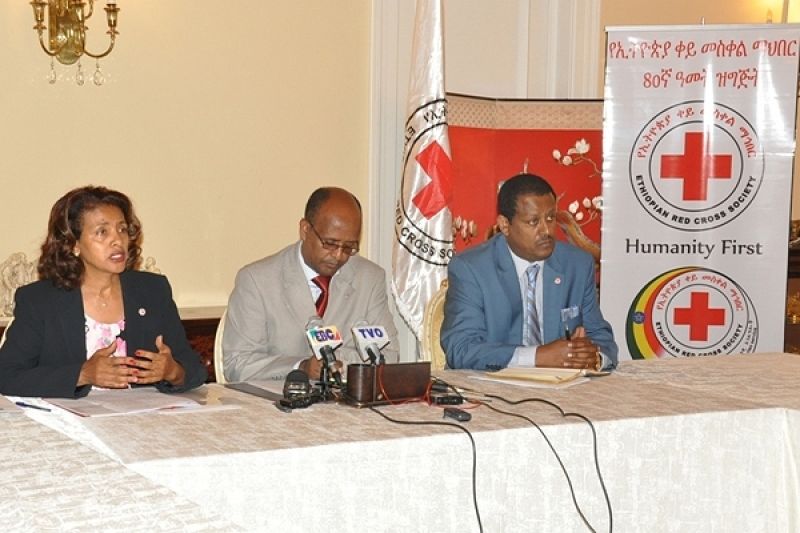 14 January 2016
The IFRC last week launched an emergency appeal worth US$ 2.2m to enable the Ethiopian Red Cross Society (ERCS) to support more than 35,000 people in Afar and Somali Regions struggling with severe drought aggravated by El Niño.
The new humanitarian work will focus on health, water and sanitation, food security and livelihoods.
"Ethiopia is facing severe food insecurity due to consecutive failed rains," says the IFRC's operational plan.
The 2015 belg (March–May) rains failed completely, it recalls, and the main kirmet rains (June–Sept) started late "and have been very erratic as a result of…El Niño weather conditions, especially in the north and north-east of the country."
Earlier this month, the ERCS announced it was staging a special fund-raising exhibition and bazaar to raise a further 4m birr (nearly US$ 200,000) for emergency assistance to drought-affected people.
At a news conference in Addis Ababa, Ethiopia's President Mulatu Teshome called on the public to support the National Society's fund-raising efforts, which would be undertaken partly a new SMS platform.
He urged government agencies, NGOs and the Ethiopian private sector to participate.
Global action
ERCS Secretary General Frehiwot Worku said the National Society had provided nearly a million dollars' worth of assistance, particularly to vulnerable mothers and children affected by drought, and would continue as long as it persisted.
The ERCS had provided more than US$ 300,000 worth of emergency food and non-food items in the second half of December to drought-affected people in Bidu and Eldar districts of Afar Regional State.
The National Society has distributed relief items and food to at least 41,000 people over seven months in Afar, Amhara, Oromia and Somali Region, helping people cope with the "drastic consequences of sudden El Niño episode weather-shocks," according to its website.
"There are also fears that the number of people requiring food assistance might continue to grow to 15 million by early 2016," the ERCS added; that officially assessed figure now stands at 8.2 million people.
Also last week several senior UN figures jointly called for further global action in response to the drought.
"Those who remember Ethiopia in the 1980s may feel a disturbing sense of déjà vu," wrote Stephen O'Brien, UN Under-Secretary-General for Humanitarian Affairs, Antonio Guterres, the former UN High Commissioner for Refugees, Ertharin Cousin, Executive Director of the World Food Programme, and UNICEF Executive Director Anthony Lake.
'Unpredictable climate'
Their article was carried in media outlets and on a website of the United Nations Office for the Coordination of Humanitarian Affairs.
"The country is once again facing devastating climatic conditions: rains have failed; millions of people need food aid; children are suffering from severe malnutrition," they add.
"But this is not the Ethiopia of the 1980s. With the leadership of the government and the support of the international community, Ethiopians can survive this crisis without witnessing a repeat of the devastating famine that claimed hundreds of thousands of lives 30 years ago."
The UN leaders said the number of people needing government help was now estimated at ten million, and forecasts indicated it could double within months.
"Conditions for emergency relief had changed "beyond recognition in the past 30 years", they argued, but "what has not changed is the harsh and unpredictable climate that can cause sudden, sharp hunger in a country where more than 80 per cent of people depend on agriculture."
With multiple crises around the world and record numbers of people displaced by conflict, Ethiopia did not look urgent, they write. "By the time it looks urgent, it will already be too late….
"UN agencies, the Red Cross and Red Crescent…and international and local charities are on standby to increase their help. All they need is reliable funding."
As well as the IFRC secretariat, Red Cross Red Crescent Movement partners involved in the Ethiopian drought response are the Austrian, Canadian, Finnish, Netherlands, Spanish, Swedish and Swiss Red Cross.
ERCS Secretary General Frehiwot Worku and her colleagues at the launch of a new domestic appeal for the Ethiopian drought. She said the National Society had provided nearly a million dollars' worth of assistance and would continue providing humanitarian assistance as long as it persisted. (Photo: ERCS)