UK December: warmest and wettest on record, Met Office confirms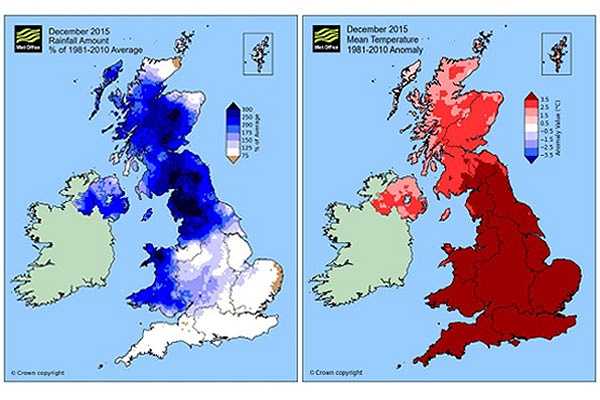 8 January 2016
Temperatures in much of the UK in December 2015 were closer to those of the spring months of April and May, according to provisional data from the Met Office released earlier this week.
The statistics confirm it was not only the wettest December on record but also the wettest calendar month overall since the Met Office's digitized record began in 1910.
The UK average temperature for December of 7.9 °C was a full degree above the 1934 record of 6.9 °C and just over 4 degrees above the long-term average.
"The UK mean temperature for [the whole of] 2015 is 9.2 °C, notably warm but not exceptional," said the Met Office." The record for the warmest year was set in 2014 at 9.9 °C. 
'Hardship'
There was a marked contrast in rainfall across the country, with record December downpours in Scotland, Wales and the north-west of England, and average rainfall in central and southern England.
Scores of British Red Cross (BRC) volunteers were mobilized over the holidays to assist people who had been driven out of their homes by, in some places, successive episodes of flooding.
At one point between Christmas and New Year, "severe flood warnings" (indicating possible danger to life) were in force in nine areas of England.
"It's hard to imagine the hardship people are facing right now," said Simon Lewis, BRC head of UK emergency response, at the end of last month.
"Our trained volunteers and staff are ready to work with local authorities and power companies to help affected communities.
"It could mean staffing rest centres for people forced from their homes, contacting vulnerable people to make sure they're OK, transporting medical personnel, or giving out supplies for those in need."
Real-time analysis
On Boxing Day (26 December), Red Cross volunteers cared for people evacuated from their homes in Chorley, Salford and Bury, and in North Wales they used 4×4 vehicles to transport critical medical staff to Bangor hospital after floods.
In Yorkshire, volunteers helped residents at a reception centre in Hebden Bridge, providing essentials like food and sandbags.
After the first of two major storms, Desmond, brought record downpours, a real-time analysis by scientists working with Climate Central's World Weather Attribution programme that includes the Climate Centre found global warming boosted the odds of such an extreme event in the region by about 40 per cent. 
"Such heavy downpours are expected to become more common and more intense as the world heats up, because a warmer atmosphere can hold more moisture," the analysis said.
A later storm, Frank, the sixth named storm of the 2015–16 season, claimed three lives, according to news reports last week.
UK Met Office charts for December show departures from a 1981–2010 average for rainfall (left) and temperature. It was the wettest December on record and the mean temperature of 7.9 °C was a full degree above the 1934 record of 6.9 °C.