Red Cross volunteers assist communities affected by El Niño in Papua New Guinea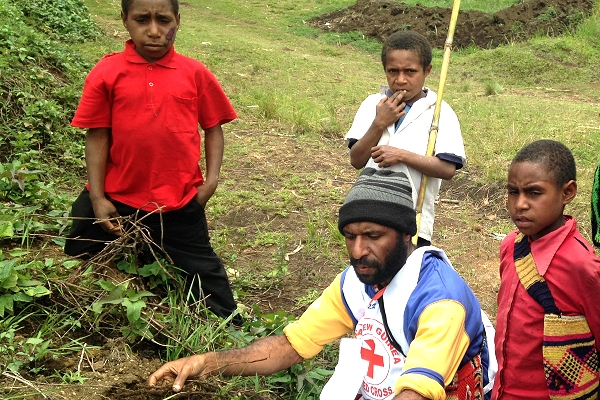 7 January 2016
(This story appeared first last month on the IFRC's news site. The most recent IFRC update on the El Niño-related humanitarian situation in Papua New Guinea is here.)
Frost and drought associated with El Niño are affecting the livelihoods and water supply of an estimated 2.4 million people in Papua New Guinea.
The IFRC launched a Disaster Relief Emergency Fund last September to support the Papua New Guinea Red Cross Society in providing relief in water, sanitation and hygiene (WASH) awareness education, and assessments in the affected communities.
To date, the Red Cross Western Highlands branch has carried out assessments in 19 of the most affected communities in the Lower Kagul, Western Highlands province, which has a population of over 18,000 with approximately 3,600 households.
During the assessments, volunteers disseminated messages about safe water handling and household water treatment.
Many of the communities are drinking contaminated water from open rivers, exposing them to the risk of communicable diseases like cholera and e-coli. Information on the drought and what communities can do to cope was also included.
'Hard work and dedication'
The volunteers conducted the assessments with technical support from Ana Zarkovic, the IFRC's WASH delegate in the Pacific.
"We worked with Red Cross volunteers to further increase their technical capacity in terms of WASH and disaster management," Zarkovic said.  
"We were also able to organise a hygiene awareness training that was attended by over 30 participants, including volunteers from five branches and representatives from the provincial government."
Zarkovic explained that the Red Cross also carried out a detailed survey that covered WASH needs and touched on livelihoods with a focus on cross cutting issues such as gender and disability.
"I would like to acknowledge the hard work and dedication of the Red Cross staff and volunteers.
"They worked long hours, some walking for miles to carry out detailed assessments to ensure that the needs of all members of the community, especially the most vulnerable, are represented in a fair manner."
Michael and Julie Kokom are two of the volunteers who were part of the 14-member assessment team; they have been active volunteers with the National Society for the past 12 years.
Crops
Michael, who wears many hats at the Red Cross, is a Deputy Chairman at the West Highlands branch and a National Disaster Response Team member.  
"I choose to volunteer because this is a way for me to help vulnerable people in our communities, especially when it comes to recovering from disasters,"  he said.
Food shortages are one of the biggest challenges for these communities. Their main staple food, kaukau (sweet potatoes), were severely damaged by frost in August.
The situation is particularly difficult for pregnant and breastfeeding women, children, the elderly and people living with disabilities. It is expected that the next batch of crops will take up to nine months to mature and be ready for consumption.
Michael's wife, Julie, was the only woman on the assessment team. "This assessment gave me the opportunity to speak to the women in the drought-affected communities," she said.
"A lot of times they would not speak to the male volunteers, but with me around, I can share what I have learned from the Red Cross with them and provide education on health and best hygiene practices." 
The Papua New Guinea Red Cross has carried out assessments in 19 communities most seriously affected by El Niño in the Lower Kagul. The IFRC provided a DREF grant last September to support the Red Cross for work in water, sanitation and hygiene awareness. (Photo: Papua New Guinea Red Cross Society)