EU to help countries affected by El Niño with 125m euros for emergency response and resilience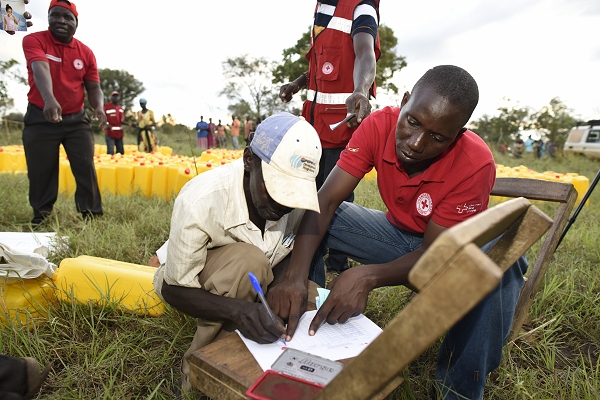 14 December 2015
The European Union has announced it's contributing €125m to finance emergency response in countries affected by the current El Niño – "impacting weather patterns all over the world," as the IFRC's science partners (IRI) have put it – in Africa, the Caribbean, and Central and South America. 
Almost all the support (€119m) comes from European Development Fund reserves; the rest is from the EU humanitarian budget.
"It will contribute to…life-saving emergency assistance and increasing resilience in the affected countries," according to a press release issued in Brussels earlier this month.
"EU aid will help meet the urgent needs of the affected populations, but it will also support resilience efforts, making them better equipped to face natural disasters in the future," according to the European Commissioner for Humanitarian Aid and Crisis Management, Christos Stylianides, speaking at the COP 21 talks in Paris. 
"At present, El Niño is already affecting millions of people in many vulnerable regions…and is expected to continue to do so in the next months."
'Immediate needs'
"We need to react now so El Niño does not undermine efforts in poverty alleviation in many countries in the world that we have fought so hard to achieve," added the European Commissioner for International Cooperation and Development, Neven Mimica.
The Commission said EU El Niño-related support will be both humanitarian and developmental, addressing "immediate needs" in nutrition, water and sanitation, health and shelter.
"It will also help build resilience in the most exposed countries by enhancing disaster preparedness, early response mechanisms, and supporting long-term development solutions," the press release said.
Commenting on current El Niño impacts, the European Commission said it believes the "worst-hit country so far is Ethiopia, [which is] reporting an increase in the number of food insecure people due to drought from 2.9 million in January 2015 to 8.2 million in October 2015."
The Commission statement added: "Central America and the Caribbean region are also being severely affected, in particular Guatemala and Haiti.
"More than 6 million people are estimated to be suffering from the current drought, which is considered to be the most severe in the region in more than 100 years and expected still to worsen."
Agricultural practices
As the UN climate talks in Paris got underway, the IFRC and the World Food Programme, jointly unveiled their new forecast-based financing approach, by which funds are released for preparedness and response before crises occur and for later resilience-building activities.
"WFP's Food Security Climate Resilience Facility (FoodSECuRE) will shift the humanitarian model from a reactive system to one that looks forward and saves more lives, time and money," according to joint statement by the two organizations.
FoodSECuRE and a Red Cross project in Uganda, where people had been preparing for El Niño, and among a range of Red Cross-Red Crescent forecast-based financing pilot projects, were activated in recent weeks, mainly because of El Niño forecasts.
"In Guatemala and Zimbabwe, funds have been released through FoodSECuRE in areas where drought risk is high due to El Niño," the statement said.
Farmers there have been trained to grow drought-resistant crops and change agricultural practices to conserve both soil and water.
The three nations are all among the 24 listed by the European Commission for new El Niño-related assistance.
A resident of Uganda's Kapelebyong sub-county gets humanitarian supplies under forecast-based financing last month. Experience from the country will help guide pilots in 15 countries around the world aiming to replicate the ground-breaking approach to early warning early action. Uganda is one of 24 countries now identified by the EU for El Niño-related assistance. (Photo: Denis Onyodi/Climate Centre)