Red Cross Red Crescent welcomes Paris climate agreement, urges focus on 'most exposed, at risk, vulnerable'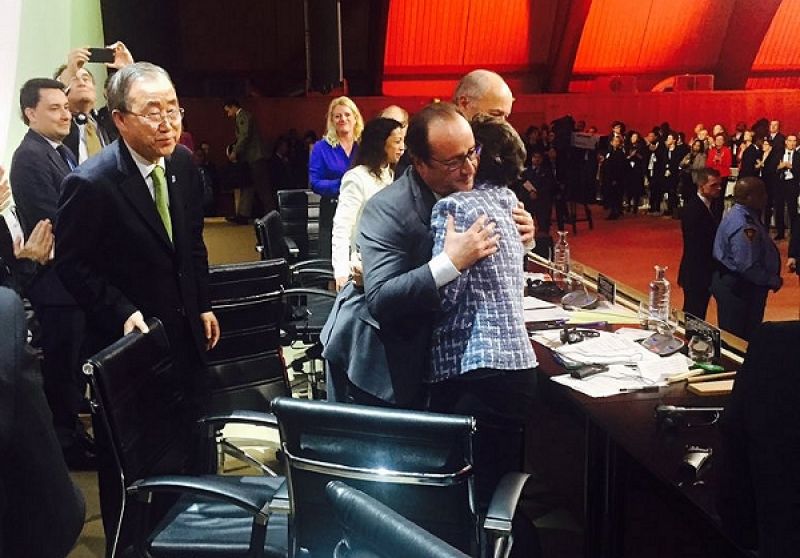 12 December 2015
(This story is an IFRC press release issued this evening shortly after the historic climate agreement at COP 21 in Paris.)
As states taking part in the 'COP 21' climate talks adopted an agreement in Paris, the IFRC urged governments and partners to place communities already affected by climate change and those most at risk from it at the centre of implementation.
"The Paris agreement is a critical milestone that shows an appropriate balance between climate change mitigation and adaptation," said Garry Conille, IFRC Under-Secretary General for Programmes and Operations.
"We commend the decision-makers who overcame divisions to reach an outcome people in the world have been looking for and expecting as an absolute must."
COP 21 eventually recognized that climate risks are rising with potential unmanageable consequences for the planet, and with more and more people unable to gain or sustain decent and dignified living.
'Deep cuts'
"Our volunteers are standing on the front line and are witnessing how climate risks are disproportionately affecting the most vulnerable communities in in the world," said Mr Conille.
In 2014, 87 per cent of disasters were related to climate. Climate-related displacement affected more than 22 million people in 2013 and could potentially impact 250 million people by 2050.
"This agreement will need to be implemented with a view to placing the interests of the most vulnerable at its core," said Mr Conille.
"We need to invest in their resilience, help them to adapt to the inevitable impacts of climate change, and forestall future crises by promoting ambitious emissions reductions."
The final agreement aims at pursuing efforts to limit the global temperature increase to 1.5°C and will hold it to well below 2°C.
"Deep cuts in emissions are needed to ensure we do not reach a point where adaptation to climate is not an option any more due to uncontrollable effects of rising temperatures," added Mr Conille.
'Resilience'
The Red Cross Red Crescent, operating through 190 National Societies and 160,000 local branches, commits to do its part to implement Paris agreement, building on the trusted presence in communities worldwide of some 17 million volunteers.
Mr Conille said: "The Red Cross and Red Crescent will always be there to assist affected people in times of crises – including in those communities that are most vulnerable, hardest to reach, or in conflict zones. But we much prefer to help prevent such crises from occurring in the first place.
"The Red Cross Red Crescent welcomes the emphasis on resilience as a central element of the agreement, notably of vulnerable groups and communities.
"This week we launched our One Billion Coalition for Resilience, which captures this ambition of scaling up partnerships to enable 1 billion people to take active steps towards reducing the risks that affect their lives and their vulnerability in the face of adversity, including climate change."
As COP 21 reaches agreement in Paris, President Hollande of France embraces Christiana Figueres, UNFCCC Executive Secretary, as UN Secretary General Ban Ki-moon, looks on. Ms Figueres tweeted: "Thank you President @fhollande for believing in, guiding & setting a high bar for the #ParisAgreement #COP21". (Photo: UNFCCC via Twitter)