UK floods: the big clean-up begins as climate scientists say probability of extreme rainfall higher with warming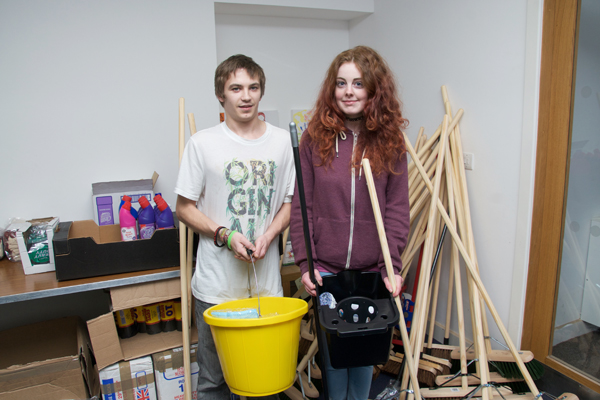 11 December 2015
(This article appeared first yesterday on the Climate Central website; it has been slightly edited here for length.)
Last weekend a major storm swept across the UK and dumped torrential amounts of rain in some spots – the more than 13 inches that fell in one location in north-west England even set a national 24-hour rainfall record.
A real-time analysis by scientists working with Climate Central's World Weather Attribution programme has found that global warming has boosted the odds of such an extreme rainfall event in the region by about 40 per cent – a small but clear effect, the scientists say.
The finding is particularly noteworthy because the results of studies looking at the potential role of climate change in extreme precipitation have been a mixed bag, especially compared to heatwaves, which have a much simpler and clearer connection to warming.
Deluge
Storm Desmond, as it was named by the UK Met Office and Ireland's Met Eireann, blew over the British Isles from early Friday 4 December to early Sunday, bringing gale-force winds and exceptional rains.
The hardest hit areas were north-west England and southern Scotland, where the mountainous terrain helped wring out even more rain, leading to some extremely high local amounts.
From 6:30 p.m. on 4 December to 6:30 p.m. the next day, the storm released a staggering 13.44 inches of rain on Honister, Cumbria – preliminarily the biggest 24-hour rainfall amount ever recorded anywhere in the UK, according to the Met Office.
The deluge led to the flooding of more than 5,000 homes and businesses in the region and left some 60,000 people without power.
Such heavy downpours are expected to become more common and more intense as the world heats up, because a warmer atmosphere can hold more moisture.
But other factors, like changes to the flows in the atmosphere that help guide storms, can also come into play. For some places, changes in atmospheric circulation may mean fewer storms that could bring such extreme rains.
'Valuable information'
The WWA analysis factored in both types of changes, examining how warming changed the odds of such an extreme event using three independent methods.
For the first, Geert Jan van Oldenborgh of the Royal Netherlands Meteorological Institute used a statistical analysis of historic rainfall observations that looked at how the frequency of such an event has changed from the past, before a warming signal clearly emerged, to the present.
For the second, Van Oldenborgh used a global climate model to effectively generate more than a dozen artificial historical records for the broad area affected and again looked at how the frequency changed.
And for the third, University of Oxford scientists took thousands of iterations of a regional climate model and compared the frequency of such an event in the current climate to one without warming.
The team found that warming had increased the chances of such extreme rainfall from a storm like Desmond in the region by about 40 per cent, with a full range of between 5 and 80 per cent.
The study didn't address other factors that have a significant influence on flooding and its effects, such as homes being built in flood plains and infrastructure like paved surfaces that can cause more water run-off.
"Extreme event attribution can provide valuable information to decision-makers faced with tough questions about changing risks," said Maarten van Aalst, director of the Red Cross Red Crescent Climate Centre in The Hague, a WWA partner.
                                                                             *
The British Red Cross (BRC) launched a major operation across the north-west of England last weekend to cope with the dramatic flood emergency that displaced many hundreds of people in the run-up to Christmas, the National Society reports.
In Carlisle, the largest affected town, teams of Red Cross staff and volunteers manned a rest-centre 24 hours a day.
They gave out food, clothing, blankets and hot drinks, and offered an understanding ear for people arriving distraught, angry or in shock.
A lot of the volunteers are also first-aid trained and were able to give medical assessments to vulnerable or ill residents.
They offered advice on getting new medication for people who had been unable to grab their own before they left their homes.
Other volunteers also helped people with appointments to find alternative accommodation or contact their insurance company.
Jason Tattersall, 21, a local Red Cross volunteer, was on duty throughout the weekend. "The flooding is my first big incident since I joined the Red Cross three years ago, but all your training comes into place," he said.
"At the rest centre, some people had come to terms with it, but there were some who were angry. Some were upset, especially if they had been in the 2005 floods.
"As soon as people saw the Red Cross emblem they opened up and started chatting to us.
"We were one of the first points of call and could then signpost them to other services."
Becky Davies and Robert Bromley prepare to help with the big clean-up in north-west England. The British Red Cross has been assisting with 24-hour refuge centres, first aid, counselling, and now cleaning materials. (Photo: Paul Barker/BRC)