Can artists help humanitarian thinking 'take flight'? (Yes)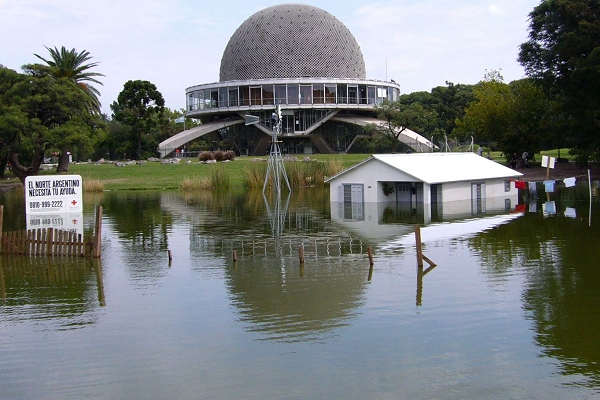 10 December 2015
(This web story is an abridged version of a longer piece that first appeared on internationaleonline.org.)
At the Climate Centre we have been carrying out our mission to help address the humanitarian consequences of climate change and extreme-weather events since 2002.
Experience has taught us that science and humanitarian considerations alone seem to not be enough to inspire ambitious thinking and action, but highly innovative collaborations with artists have shown great potential.
When the Argentine Red Cross was helping flooded rural communities in the northern province of Chaco in 2009, it embarked on an unusual collaboration with designers and the authorities in Buenos Aires.
The resulting installation, Casa Inundada (photo) brought a message of solidarity to the heart of the city, helping to raise the awareness of many thousands of passer-bys, and millions more through TV and other media.
'Sound art'
Filmmaking also offers unique opportunities to help address the causes and consequences of climate change.
The Climate Centre has worked with partners to make participatory videos on climate change in Ethiopia and Malawi, for example, helping subsistence farmers become filmmakers themselves and promote new practices to help peers adapt to changing conditions.
During the 2012 UN climate talks in Qatar, participants at the Development and Climate Days side-event were invited to storyboard short films together.
Music too has much to contribute to humanitarian work in a changing climate.
For example, a "sound art" competition jointly convened by the Climate Centre and the Centro de Experimentacion e Investigacion en Artes Electronicas invited musicians to create "soundscapes" about mosquito-borne diseases like malaria and dengue, which are showing new regional and seasonal patterns due to changing weather.
A rapidly growing area is educational games that embody the feedbacks, thresholds, delays and especially the trade-offs involved in disaster risk management.
Flood warning
Games involve decisions with consequences, and they have now been used at more than 1,000 separate events – ranging from gender and climate issues in rural Kenya to hurricane preparedness at the White House in Washington, DC.
A particularly exciting approach is offered by "engagement games", set in the real world in ways that enable people to understand and change reality.
For example, we designed the game UpRiver in collaboration with the Engagement Lab to help Zambian farmers living along the flood plains of the Zambezi River contribute to flood warnings, providing incentives to monitor and report river levels in their village, and make predictions based on information from upstream.
UpRiver can improve science-based predictive models, as well as increase the trust of communities in early-warning systems.
Alongside COP 20 in Lima, a lighter-than-air sculpture by artist Tomás Saraceno and his team, with the Red Cross, aimed to harness the sun's power to help our thinking "take flight"; it was made of recycled plastic bags otherwise destined for landfill and named Intiñan – a Quechua word meaning "way of the sun".
(Saraceno's latest endeavour, Aerocene, is on show at the Grand Palais in Paris for the pivotal 2015 UN climate talks.)
Fresh eyes
So what can artists and museums do to help address the humanitarian consequences of climate change?
The best answers, of course, can only emerge from the art world itself.
At the practical level they can help generate new disaster management plans, examining the threats posed by extreme rain, wind, temperatures, and other climate-related issues, as well as improve the resilience of local communities.
At a deeper level, museums, artists and other stakeholders in the world of culture could help humanity by creating exhibits, installations and other initiatives to help us all see the difficult and unpredictable problems we face with fresh eyes.
We need to infuse humanitarian work with creativity, expanding the range of what is perceived as do-able.
The Casa Inundada installation in 2009, next to the city's planetarium, brought a message of solidarity to the heart of Buenos Aires, helping to raise the awareness of a flood-relief operation of millions of people.
(Library photo: Argentine Red Cross.)