UK minister links floods in north-west of England to climate change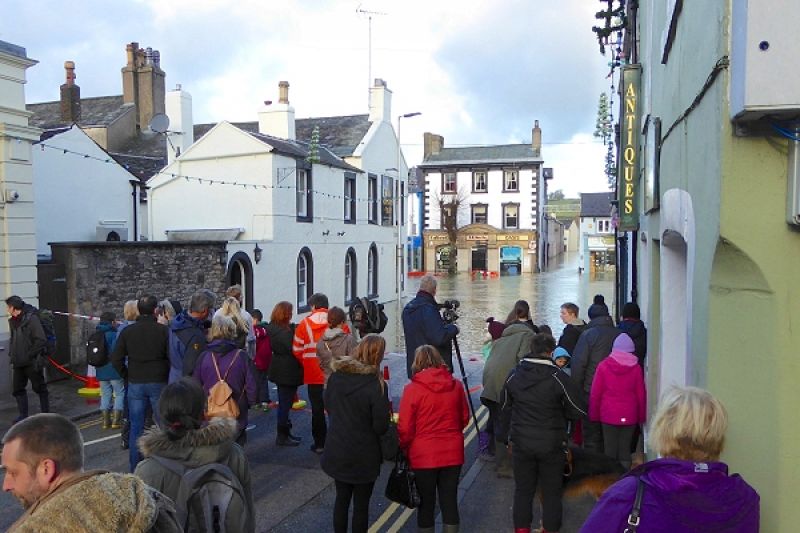 9 December 2015
The British Red Cross (BRC) this week launched a major operation in the north-west English counties of Cumbria and Lancashire hit by Storm Desmond and subsequent flooding.
Red Cross volunteers and staff have helped at least 400 people affected by floods since Saturday, a number that may yet rise.
The National Society has been running a refuge in Carlisle, the largest city in Cumbria, the worst affected of the two counties.
It also opened temporary rest centres in Appleby, Kendal, Corbridge and Keswick.
"People walk in [to our rest centre] with a glazed expression," David Taylor, Red Cross emergency team leader in Cumbria and the north-east, told BBC radio.
"For us flood recovery is key – the way we support them over the coming months and years to get their lives back in order."
Heavy rain
Carlisle, a short distance south of the Scottish border, lies at the confluence of three rivers – the Eden, Caldew and Petteril – and also was hit by severe floods in 2005.
Prime Minister David Cameron visited the region earlier this week and described the damage as "horrific".
News reports say some 50,000 people were left without electric power for several days, 3,500 homes were washed out, and 40 schools had to be closed; one death was reported.
The British environment minister Liz Truss said the floods and the storm that preceded them were "consistent with the trends we're seeing in terms of climate change".
On Saturday the UK Met Office said Desmond, the fourth named storm of the season, was bringing "potentially damaging gusts of wind across northern England".
Heavy rain totalling up to 200 mm was expected across Cumbria at that stage.
As of today (Wednesday), the UK Environment Agency had 12 flood warnings in force – one of them severe, but 68 warnings and alerts had been lifted in the preceding 24 hours after waters receded and the clear up began.
Flood losses
A BRC app available to download from the National Society's homepage now delivers real-time flood alerts, severe-weather warnings and practical advice.
Scientists working with the new World Weather Attribution programme are expected later this week to publish a quantitative analysis of the influence of climate change on the latest UK floods.
Last year, a paper published online by Nature Climate Change reported that flood losses in Europe are likely to increase "considerably" over the next few decades, partly because of projected climate change.
Major floods are expected to become more common and strain disaster finance, it said, at both country and EU level, highlighting the need to anticipate and respond to such disasters.
The flooded centre of the town of Cockermouth, Cumbria, last Sunday. The British Red Cross launched a major operation in the north-west English counties of Cumbria and Lancashire hit by Storm Desmond and flooding. (Photo: Morebyless via Flickr, Creative Commons)