Development and Climate Days underway in Paris alongside pivotal COP 21 climate talks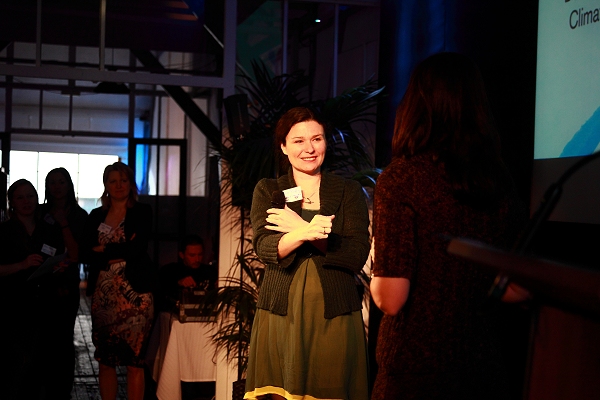 5 December 2015
The 13th Development & Climate Days (D&C Days) weekend workshop alongside annual UN climate talks got underway in Paris today, centred on the theme of Zero Poverty, Zero Emissions: Tough talk on poverty and climate and heralding two days of innovative and incisive dialogue.
The event is being held at L'Usine – a renovated historic industrial site on L'avenue du President-Wilson.
It was officially opened by Andrew Norton, Director of the UK International Institute for Environment and Development (IIED), and Dominique Charron, Acting Director of Agriculture and Environment at Canada's International Development Research Centre (IDRC).    
Calling for an end to business as usual on climate, Mr Norton said that "climate justice is a fundamental part of the history of D&C Days".
Nearly 700 people have registered to attend the hugely popular event, and they will be admitted on a first come, first served basis.
Climate agreement
"D&C Days will feature dynamic, interactive discussion, including participatory games, lightning talks, role-play discussions, two high-level panels, and more," say organizers, who include the Climate Centre, the IIED and IDRC, the Overseas Development Institute (ODI), and the Climate and Development Knowledge Network (CDKN).  
"Participants will explore ways to integrate climate and poverty targets, influence the UN climate talks, and identify agreements that continue momentum towards achieving zero-zero," the organizers said.
Stakeholders engaged in COP 21 will gather at D&C Days to discuss how to implement the recently adopted UN Sustainable Development Goals and promote an anticipated international agreement on climate.
'Local action'
Since 2014, the IPCC's 5th Assessment Report said the world must achieve zero net emissions of greenhouse gases by 2100 – offsetting any remaining emissions by removing an equivalent amount from the atmosphere – to stay below a 2°C rise in global mean temperature.
Yesterday, hosting COP 21 and D&C Days delegates from National Societies at its Paris headquarters, the French Red Cross introduced its 2016–19 pledge on climate change that will also be presented at the 32nd International Conference of the Red Cross and Red Crescent in Geneva.
Director of International Relations and Operations Antoine Peigney said the French Red Cross was asking fellow National Societies to lobby their governments to jointly sign the pledge, entitled Building resilience in a changing climate.
The pledge will be posted in its final form on the International Conference website; its current section of risk reduction commits signatories to promoting "local action to reduce risks of the most vulnerable groups, including by expanding community-based early warning systems."
'Window of opportunity'
As COP 21 began earlier this week, the IFRC called on all parties to ensure that the needs of vulnerable and at-risk communities are placed at the heart of the pivotal meeting.
The Paris climate talks aim to achieve universal agreement on climate to keep global warming below 2°C.
IFRC Secretary General Elhadj As Sy said: "There is still time for us to halt climate change, but the window of opportunity will continue to become narrower.
"The consequences of climate change are already being felt by the world's poorest and most vulnerable communities."
D&C Days was initiated in 2002 by the IIED's Saleemul Huq at the COP 8 UN climate talks in Delhi.
It has since brought together policy-makers, scientists and development practitioners to debate its central theme: helping to place adaptation centre-stage with climate policies and programmes worldwide.
Last year's event in the Peruvian capital, Lima, was filmed by ODI and captured graphically by artist Jorge Martin.
Belina Raffy of the Applied Improvisation Network conducts a quick skills practise session to open the 13th D&C Days workshop alongside the UN climate talks in Paris. Its theme is Zero Poverty, Zero Emissions: Tough talk on poverty and climate. (Photo: Alex Wynter/Climate Centre)