Vanuatu pre-positions relief with as many as six cyclones anticipated in next few months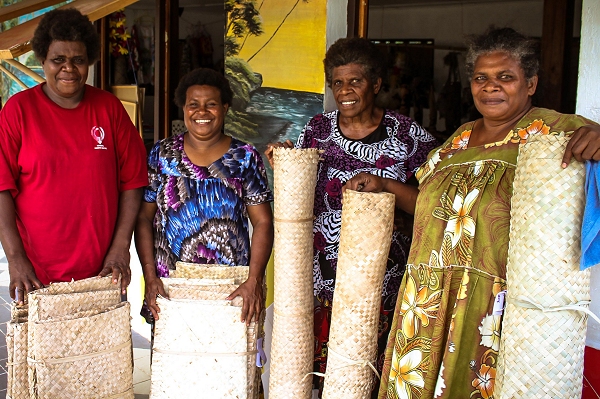 4 December 2015
(This story appeared first on the news site of ifrc.org.)
Nine months have passed since Tropical Cyclone Pam swept through Vanuatu. The impact of the cyclone was devastating, affecting almost 190,000 people – 70 per cent of the island nation's population.
In recent months, El Niño has dealt cyclone-hit communities in Vanuatu a double-blow causing reduced rainfall and drought-like conditions in much of the country, affecting local food production and reducing the availability of fresh water on some islands.
To help communities tackle the drought and prepare for the onset of the Pacific cyclone season, the Australian Red Cross with funding from Australian Aid are working with the Vanuatu Red Cross and the IFRC to pre-position emergency relief goods in key communities across all six provinces of the country.
"The relief supplies will enable the most vulnerable people to get the support they need as quickly as possible when disaster strikes," said Vanuatu Red Cross CEO, Jacqueline De Gaillande.
The Red Cross has been acquiring culturally appropriate and locally sourced supplies where possible in an effort to maximize the speed of emergency assistance and minimize associated costs.
Emergency shelters
In times of disaster, obtaining relief supplies for immediate distribution in Vanuatu can be challenging.
As demand increases, prices can escalate quickly, making it difficult to source relief items and get them to where they are needed. Sourcing and pre-positioning supplies locally means these issues can be avoided.
More than 1,100 pandanus mats are being allocated as part of the pre-positioned relief supplies.
The mats are being produced locally by the Malampa Women's Handicraft Centre, which is improving the livelihoods of approximately 200 women.
"Sourcing local goods is benefiting their families, the wider community and the local economy," said Ms De Gaillande.
Following the response to Cyclone Pam, the Red Cross has doubled the amount of relief supplies in each location, including containers to collect clean water, pots and pans for cooking, and tarpaulins and tools to build emergency shelters. 
'Less predictable'
In the past, there have usually been higher numbers of tropical cyclones occurring during El Niño events and seasonal forecasts indicate that more tropical cyclones than normal are expected in the south-west Pacific during the 2015–16 season. 
"In Vanuatu, two to six tropical cyclones are anticipated in the next four months and it is likely that at least one of the cyclones will be Category 3 or stronger," explained Olivia Warrick, Pacific Adviser with the Climate Centre.   
"During El Niño events, tropical cyclone tracks can be less predictable than normal. 
"They may also last longer, meaning more damage may happen if a cyclone survives in an area for a long time."
More than 1,100 pandanus mats are being allocated as part of the pre-positioned relief supplies on Vanuatu, which is facing more severe cyclone-impacts in the current El Niño. (Photo: IFRC)