In the Pacific, Vanuatu battles El Niño impacts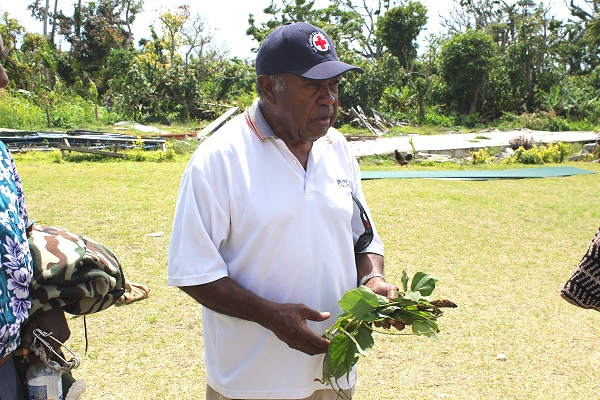 27 October 2015
(This story appeared first last week on the IFRC news site. It has been edited slightly here for length.)
Seven months after Cyclone Pam tore across Vanuatu, communities are still recovering from what many consider to be the most destructive disaster in the country's history. Now they are facing another threat in the form of drought linked to El Niño conditions in the Pacific.
Malampa, Shefa, Tafew, Matasu and Emae are all facing food and water shortages to varying degrees due to lower-than-normal rainfall and the lasting damage caused by Pam.
Supported by the IFRC, the Vanuatu Red Cross Society (VRCS), is working with the government to carry out assessments and respond to the needs of communities.
Cyclone season
Dickinson Tevi, VRCS communications coordinator, said that Cyclone Pam had a marked impact on farming in North Tanna: "People are confused and said they have never experienced anything like this.
"Cyclones come and go, but damaged plants usually grow back and produce food. This time, though, it is six months later and root crops are of poor quality and don't provide adequate food supply for the community."
The Red Cross is also conducting sensitization sessions on water, sanitation and hygiene. Many communities rely on rainwater, so Red Cross teams are helping to rehabilitate wells in communities.
Recent rains may be deceptive: The total amount of rainfall over the past three months has been lower than normal for this time of the year
It's likely that the impact of El Niño will be felt during the coming cyclone season which begins in November.
Rainwater harvest
The Climate Division of the Vanuatu Meteorology and Geo-Hazards Department (VMGD) said this week that El Niño conditions help to boost tropical cyclones.
According to that forecast, Vanuatu can expect to experience between two and six cyclones during the 2015–16 cyclone season.
Vanuatu is vulnerable to natural disasters and recently 30 community members from Epau, Efate Island, came together in a unique initiative with representatives from the VMGD, the National Disaster Management Office, the Red Cross, the IFRC and the Secretariat of the Pacific Regional Environment Programme (SPREP) to draft an action plan for climate and disaster resilience in the community.
Epau is vulnerable to storm surges and tsunamis, and heavy rain can cause flooding. The town was severely affected by Cyclone Pam; most houses were damaged, and vegetable gardens needed for food and income were flooded.
The IFRC and SPREP are also working with other National Societies in the Pacific to bring similar projects to other island nations.
The Vanuatu Red Cross has worked with the National Disaster Management Office to draft a national plan for drought.
Since March, a special Red Cross team promoting water, sanitation and hygiene has constructed or rehabilitated systems for harvesting rainwater in five islands and reached 1,425 people.
The President of the Vanuatu Red Cross, Ati George Sokomanu, holds a bush vine which local people are now forced to cook and eat due to drought conditions which are having a major impact on food production on North Tanna, Vanuatu. (Photo: Vanuatu Red Cross via IFRC)