National adaptation planning for communities in Kenya and Malawi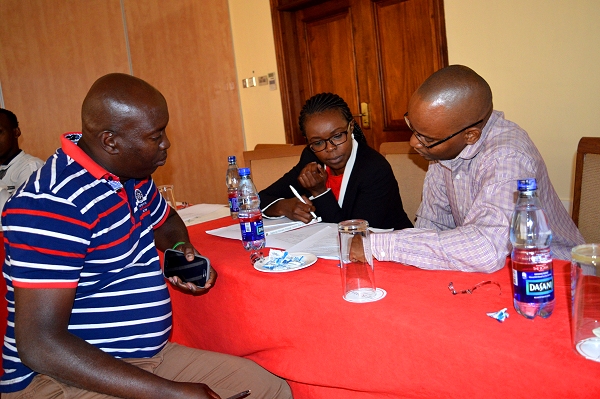 23 October 2015
An IFRC programme to help National Societies engage with National Adaptation Plans (NAP) reached Kenya and Malawi through workshops last week and earlier this year in Nairobi and Lilongwe respectively.
The project is being implemented jointly by the IFRC secretariat, the Danish Red Cross, and the Climate Centre, with the support of the Danish group Civil Society in Development – an independent association of nearly 300 civil society organizations.
More training sessions will be conducted in Armenia, Georgia and Nepal to strengthen the skills of National Society staff and volunteers to engage in their country NAP processes; an educational module has been designed to guide the trainings, part of the Climate Training Kit.
In 2013 the IFRC published detailed guidance for National Societies on how to engage with NAPs.
Staff and volunteers from the Kenya and Malawi Red Cross have already started engaging with their governments to bring forward experience from work with local communities to influence the NAP process, ensuring the plans take account of local adaptation needs.
The Nairobi and Lilongwe sessions included other civil society and government representatives including NAP focal points, all engaging on "critical adaptation issues that needed to be taken account of in the NAP development", as one said.
Advocacy
The two countries' National Societies are forming NAP task forces that will follow implementation of advocacy plans, and look out for new opportunities for engagement with adaptation.
Key messages on local concerns have also been drafted and will be followed up by the NAP teams in advocacy work.
The Kenya and Malawi Red Cross will also be participating in events at the COP 21 climate talks in Paris in December, sharing experiences on their engagement in adaptation planning at sub national and national levels.
Dubbed the Cancun adaptation framework to enhance action on adaptation, including through international cooperation and coherent consideration of matters relating to adaptation, NAPs were introduced in 2010 at the COP 16 UN climate talks in Mexico.
The following year a decision was taken to support developing countries in implementing the plans, would were to be country driven, participatory and gender-sensitive processes, building on National Adaptation Programmes of Action (the NAPAs).
Participants at the stakeholders' session in Nairobi take a close look at the draft NAP for Kenya. (Photo: IFRC)