'Engage, negotiate, cajole,' Abbas Gullet tells resilience conference in The Hague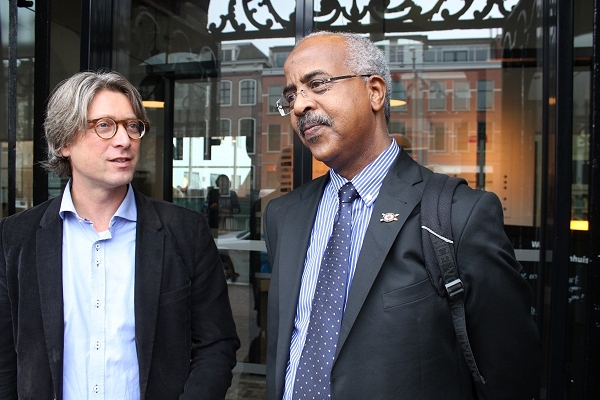 7 October 2015
The Secretary General of the Kenya Red Cross Society (KRCS), Abbas Gullet, who is in the Netherlands, today called on humanitarians and development practitioners to "walk the talk" in rebalancing mindsets from relief in favour of resilience and self-sufficiency.
In remarks to the global conference of Partners for Resilience, Mr Gullet, who is also a vice-president of the IFRC governing board, said: "Our preoccupation always is to address the needs of people affected by disasters and emergencies, but the Kenya Red Cross has been saying that, of course, we have no problem in responding to emergencies, but can we do something about the prevention of those emergencies?"
The key question which the KRC had been asking "very strongly" was: "How can we empower people to get them away from food handouts and give them the dignity that comes from growing their own food?"
Citing the examples of Australia, Israel, Saudi Arabia, and parts of India and the US where the desert had been made to bloom, Mr Gullet argued that similar successes should be within reach in parts of Africa that were not even fully desertified.
There were now nearly 30 projects around Kenya, including PfR-supported work, where the KRCS had helped "turn around people's lives from food handouts to being able to sell a surplus".
Water was the key priority in Kenya, a largely dry country, so "we drill boreholes, we create dams, we pump water, and we irrigate through using technology".
Communities that had been primarily pastoralist and relied on animals "can grow food and become farmers and understand the value of farming".
Turning to interaction with governments and institutional donors, Mr Gullet told the PfR conference that "money is always an issue, and it will always go to people who have credibility, who are trusted, and are able to show – through action – that we're just not talking."
"So I'm saying to my government, I have stopped talking, I want to walk the talk, I have stopped experimenting, I want to scale up, so please give me the resources to scale up.
"The private sector has supported us, but government is where the money is."  
'I've been given an opportunity'
He added that the KRC was "engaging with government partners to show them the projects which are having an impact on ordinary people's lives…giving people back dignity and hope, making them self-sufficient".
M-PESA mobile-money technology was one example; more traditional crops that were resistant to weather and climate was another.
"Simple economic insecurity" was helping to fuel the migration issue currently facing the international community, Mr Gullet said, but young Africans seeking "greener pastures" overseas could also be helped where they were.
He recalled the story of a young Ethiopian visiting KRCS board members had met who had once planned to move to Saudi Arabia "where he would probably find employment as a domestic worker or a factory worker .
"But the Ethiopian Red Cross gave him two bee-hives, and two years later this young man had 30 hives, and he said he'd never dream of going to Saudi Arabia or anywhere else.
"'I have been given an opportunity and I seized it', he told us, and at the end of this year he's thinking about getting married."
'It's possible'
Mr Gullet said "the first part of PfR was very good, but the second part – when we're going to engage governments – is crucial and important," especially from the Red Cross Red Crescent perspective as legally the auxiliaries of government.
"It's for us to engage, negotiate, cajole, to talk to them" to convince them to finance the work that would make a real difference to people's lives.
"I'm convinced it's possible."
The 2015 Partners for Resilience (PfR) Global Conference includes five Netherlands-based agencies, the Dutch government, partners from the global South and others like the IFRC, the UK Overseas Development Institute, and the Global Network of Civil Society Organisations for Disaster Reduction. 
Running through to Thursday, #pfrconference is taking stock of the 2011–15 PfR programme in nine countries including Kenya – the first large-scale project of its kind in the world – and planning for a new five-year strategic partnership with the Dutch government centred lobbying and advocacy to develop PfR work. 
CARE Nederland, Cordaid, the Netherlands Red Cross, the Red Cross Red Crescent Climate Centre and Wetlands International believe they have now reached almost half a million people in nearly 600 communities in Ethiopia, Guatemala, India, Indonesia, Kenya, Mali, Nicaragua, the Philippines and Uganda.
Kenya Red Cross Secretary General Abbas Gullet (at right) at the PfR conference in The Hague with Juriaan Lahr, NLRC Head of International Assistance. (Photo: Alex Wynter/Climate Centre)