'Rethinking possible futures' through solar-powered, lighter-than-air sculpture at D&C Days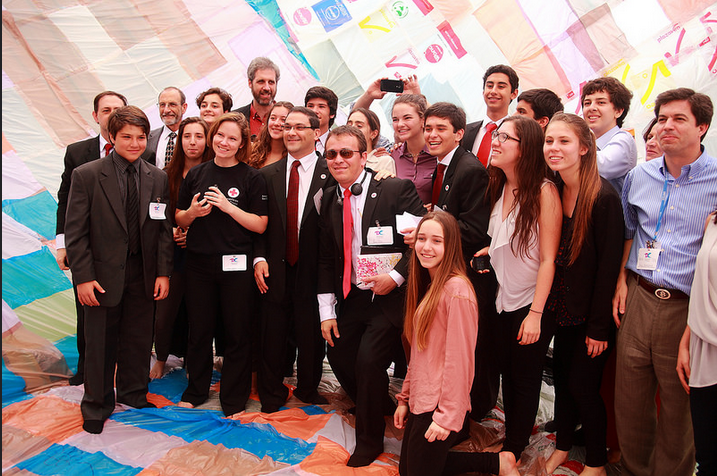 6 December 2014
An ambitious, cooperative project to create solar-powered, lighter-than-air sculptures at Development and Climate Days ("D&C Days") in the Peruvian capital, Lima – hosting this year's UN climate talks – is challenging people to rethink approaches to tackling climate and poverty.
The experimental artistic performance by Tomas Saraceno, a world-renowned Berlin-based artist, invited volunteers from local communities and government and business leaders to harvest, clean and tape together used plastic bags to make a lighter-than-air sculpture six metres high five wide.
The sculpture is named Intiñan – a Quechua meaning "way of the sun." It was constructed with help of local students and Red Cross volunteers.
It's hoped the rising sun will tomorrow morning (Sunday) power the sculpture by heating the air inside, lifting it off the ground.
The experiment is intended to encourage a strengthened focus on Zero poverty, Zero emissions, Within a generation, the 2014 D&C Days theme, hashtagged #zerozero on Twitter.
Ambition and imagination
Saraceno set himself the task of making a beautiful, giant flying sculpture without using new resources.
Through inspired thinking, old plastic bags and the bottomless passion of a team of volunteers, the sculpture symbolizes what human ambition and imagination can achieve.
The UN COP 20 climate talks are tasked with reaching historic levels of cooperation to tackle climate change, to be finalized next year in Paris.
"It's an amazing idea that will get everyone in the community involved," said Roberto Brito de la Cuesta, the Regional Representative of the American Red Cross, which is co-sponsoring the project.
"With this structure, we are recycling and reusing materials, and bringing together government, non-government agencies and businesses, children and adults.
"We could put up drones to take aerial photographs, but it wouldn't be nearly as low-carbon or participatory." 
'A big idea'
Tom Mitchell, Head of Climate and Environment at the Overseas Development Institute, another co-sponsor of the sculpture, said: "Seventeen percent of the world's population still lives in extreme poverty, which is unacceptable with the resources at humanity's disposal in today's world.
"At the same time, science tells us that human society must transition swiftly to a zero net emissions world by the end of the century in order to avoid dangerous levels of climate change.
"The sculpture turns our conventional thinking on its head: if a team of willing volunteers, inspired by a big idea, can make a solar-powered balloon fly over Lima, surely when working together we can eliminate poverty and radically cut emissions at the same time."
D&C Days participants in Lima inside Intiñan – a Quechua meaning "way of the sun" and the name given to a light-than-air sculpture constructed with help of local students and Red Cross volunteers, symbolizing what human ambition and imagination can achieve. (Photo: Tomas Saraceno)