IFRC monitors worsening El Niño-related drought in Papua New Guinea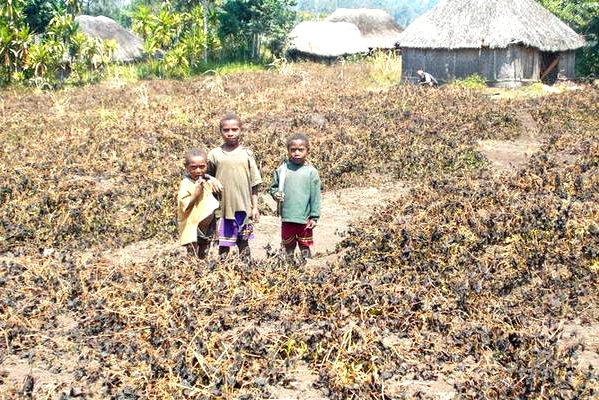 7 September 2015
The IFRC this weekend issued a new information bulletin on the severe El Niño affecting Papua New Guinea (PNG), declared by the National Weather Service (NWS) in August and forecast to continue for months with reduced rainfall countrywide.
The situation is expected to be the worst since the 1997–8 drought, it says, and disaster managers in Chimbu province have reported 24 deaths; 2 million people are estimated to be affected overall.
It's reported that streams and rivers used as primary water sources have dried up, and people are drinking and cooking from secondary sources normally used for washing, increasing the risk of diarrhoea and typhoid already prevalent in PNG, according to the IFRC.
The current drought attributed to El Niño is overlapping with seasonal dryness between May and October, although this varies around PNG.
Enga Province, home to some 300,000 people, has also had its worst frost in 40 years, and there are concerns over shortages of water and home-grown vegetables.
'Famine food'
Bush fires are reported in some areas, the IFRC bulletin adds.
Enga is one of several important agricultural areas affected by the below-average rainfall, along with Chimbu and the Eastern Highlands, Western Highlands and Southern Highlands.
The National Disaster Response Committee has now met three times, incorporating government technical agencies, the UN, domestic and international NGOs, and the Papua New Guinea Red Cross Society (PNGRCS).
Nearly all highland provinces are experiencing Category 3 and 4 droughts by the government's scale – indicating that conditions are difficult with reduced food availability and security, with some "famine food" being eaten, and water available only at distance.
Coastal provinces are said to be less affected.
Early-warning messages
The NWS has called for the response to cover the entire country, not just specific regions.
The PNGRCS's own National Emergency Operation Centre was activated in June, and early-warning and preparedness messages on El Niño are being disseminated by volunteers.
The National Society is working with communities to minimize the risk of diarrhoeal disease by promoting domestic water treatment, and it's identified an immediate need for jerrycans and hygiene kits.
The IFRC bulletin adds: "Given that severe food insecurity could potentially result in the displacement of households which could lead to the breakdown of law and order, there is an urgent need for PNGRCS to continue to work closely with the ICRC and other humanitarian partners [with] established relationships with communities."
The Western Highlands Red Cross branch, in particular, is collaborating with the ICRC on assessments in nine districts, and others in the Southern Highlands and Hela provinces.
The IFRC Pacific office in Suva is coordinating response efforts within the Movement and with other regional actors, and providing technical support to the PNGRCS.
The IFRC bulletin was issued for information purposes only; donor support for this operation is not being sought at this stage.
Children from a village in Papua New Guinea's Western Highlands Province stand in one of countless sweet-potato gardens destroyed by frost across the country last month. (Photo: Kud Sitango via The Conversation)