El Niño forecast to approach record strength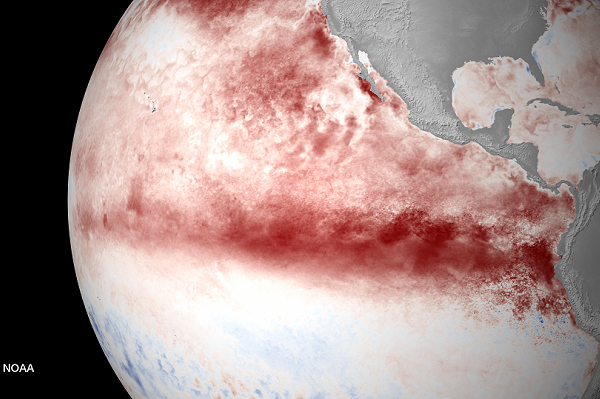 21 August 2015
"Yet further strengthening" over the next few months of the current already-strong El Niño is now forecast by scientists at the International Research Institute for Climate and Society (IRI), the IFRC's climate science and forecasting partner.
"We've already seen impacts from this El Niño," said IRI Chief Forecaster Tony Barnston in his monthly briefing yesterday. 
"India had a weak monsoon [for example], and it's been dry in the Caribbean and a lot of Central America and Indonesia."
"Even stronger impacts" now forecast by IRI include wet conditions in eastern equatorial Africa, and above and below normal rainfall in, respectively, south-east and north-east South America, among others.
After discussions at the recent "dialogue platform" on forecast-based financing (FbF) at the IFRC office in Geneva involving the Red Cross, scientists, and Peruvian disaster managers, it was agreed that FbF centred on El Niño would be included in pilot work toward the end of the year.
'We need to be prepared' 
Full details of the latest seasonal forecast are available as usual through the IFRC's Disaster Management Information System, including information by country on potential El Niño impacts, as well as the Climate Centre website.
"The models are saying this could be among the top four El Niño events since 1950," Barnston said at the briefing – approaching but probably remaining "just below" the 1997 event.
The US space agency NASA last week issued an animation graphically illustrating how the 1997–8 El Niño compares to this year.
The El Niño in 2009–10 was judged a moderate to strong event.
There is only a "loose" relationship between the strength of an El Niño and that of corresponding impacts, Barnston explained.
But he concluded: "By and large, the probability for strong impacts will be greater if we have a strong El Niño, as we do this year.
"We need to be prepared for this event."
Unusual weather
"The Pacific is currently experiencing unusual weather patterns," said Stephanie Zoll, Pacific Regional Disaster Management Coordinator, last month in an IFRC press release issued in the Solomon Islands capital, Honiara.
The heavy rains being experienced by the Solomon Islands during the dry season were "very worrying and require close monitoring", she added; the rise of unusual weather patterns was being linked to El Niño locally.
Red Cross Red Crescent disaster managers can email questions on El Niño direct to the IFRC helpdesk at ifrc@iri.columbia.edu.
The most recent (10 August) satellite image from the US National Oceanic and Atmospheric Administration (NOAA) shows the warming Pacific. NOAA's Climate Prediction Center said this week there is a "greater than 90 per cent chance that El Niño will continue through Northern Hemisphere winter 2015–16, and around an 85 per cent chance it will last into early spring 2016." (Image: NOAA)