Floods and mudslides trigger renewed concern over glacier-melt hazard across Central Asia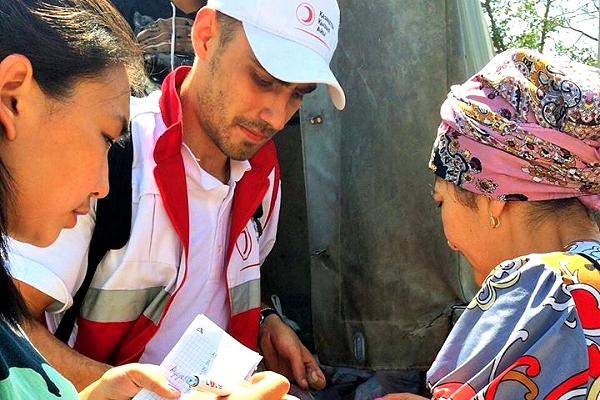 18 August 2015
Floods and mudslides in several Central Asian countries last month renewed fears that melting glaciers are intensifying a possibly climate-related humanitarian hazard.
More than 200 Kazakh Red Crescent volunteers (photo) deployed in response to floods in Almaty, the country's largest city, where "rising temperatures caused some melting of the Kargalinka glacier, which sent a torrent of water, earth and debris into the city," according to information received from the National Society and reported by the IFRC.
More than 1,000 people had to be evacuated, but there were no deaths.
NASA has published before-and-after Landsat-8 photos showing how a major melt-lake failed on 23 July, "sending water, mud, boulders and other debris rushing down the river toward Almaty," according to the US space agency.
"The Kargalinka is not the only river in the area that faces the threat of glacial lake outburst floods [GLOFs]," says NASA.
"In 2012, analysis of satellite imagery of the northern Tian Shan [mountain range straddling Kazakhstan, Kyrgyzstan, and north-west China] pointed out 47 potentially dangerous lakes in the region."
Kazakh Red Crescent President Erkebek Argymbayev supervised the setting up of a response HQ in Almaty, while a second relief centre was created in a school to support volunteers and a special disaster-response team.
'Diminution'
In Tajikistan in the first three weeks of July, hot temperatures and "rapid melting of snow and glacier ice" triggered mudslides and floods in mountainous areas, causing floods or dangerously high levels along the Pyanj, Gund, Vakhsh, Zaravshan, Kafernigan, Isfara and Isfana rivers.
The IFRC's country representation and the German and Finnish Red Cross joined the Tajik Red Crescent in a DREF operation worth nearly US$ 90,000 to assist 1,000 affected people.
Official reports from Kyrgyzstan, meanwhile, said summer heat "intensified melting of glaciers" and at least one riverine flood that destroyed crops.
In its latest assessment of climate change worldwide, the Intergovernmental Panel on Climate Change (IPCC) included a case study on Central Asia's glaciers, which said their "diminution" with global warming is "projected to continue".
The IPCC Working Group II report on impacts quoted one study as saying that more meltwater "entails a hazard due to the formation of moraine-dammed glacial lakes".
It was failure of the moraine* upstream from Almaty that caused the July disaster there.
Mountainous terrain
"Projections for mountainous Central Asia are for a greater general risk of mudslides, landslides and flash floods due to increased glacial meltwater and overflow from snow-melt lakes," said Erin Coughlan, Senior Climate Specialist with the Climate Centre.
"But we would need more research to know how much the risk of last month's mudslides was affected by climate change," she added.
Another issue in central Asia is the difficult mountainous terrain, which often makes delivering humanitarian supplies by anything but helicopter difficult and time-consuming.
"Experiences such as these [floods] may promote coordination between different countries of early-warning systems and disaster risk reduction activities in regions vulnerable to GLOFs," according to a report about the Tajik flood on the "GlacierHub" website, whose homepage says glaciers are shrinking "in all areas of our warming world".
"As people search for ways to comprehend and address climate change, glaciers often come forward as potent elements in thought and action," says GlacierHub.
Kazakh Red Crescent volunteers distribute humanitarian aid to Almaty residents affected by floods and mudslides triggered by a melting glacier. Similar incidents in Kyrgyzstan and Tajikistan last month led to renewed fears of an intensified glacier-melt hazard in the region. (Photo: Kazakhstan Red Crescent via IFRC)
(*A mass of rock and sediment carried downstream and deposited by a glacier to form a natural dam.)