More rainfall-extremes could be new norm for Asia if latest IPCC climate predictions borne out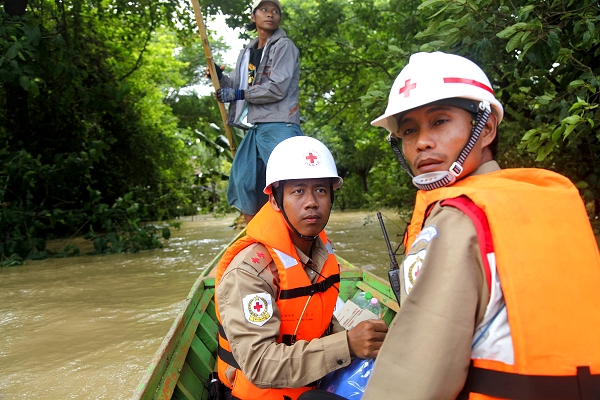 14 August 2015
Parts of Asia have been "inundated by floodwaters and ravaged by landslides" as heavy rains batter the region, causing extensive damage to crops and property and displacing millions of people, the IFRC reported this week.
Myanmar continues to suffer from heavy downpours that began in mid-July; nearly 100 people there have lost their lives and about a million are affected.
An IFRC emergency appeal for nearly US$ 4m will assist tens of thousands of people in the administrative divisions of Magway, Sagaing and Chin, while the ICRC is also working with the Myanmar Red Cross in Rakhine State.
The International Red Cross and Red Crescent Movement is jointly aiming to help 100,000 people in Myanmar.
Combined impacts
Other developments this week in summary:
-More than 200 people have died and 10 million are affected by flooding in six Indian states, and the Indian Red Cross has been helping to distribute tarpaulins, tents, sheets, blankets, sarees, dhotis, mosquito nets, kitchen sets, towels and plastic buckets.
-One hundred and ninety people in Pakistan are reported to have died in the monsoon and more than 120 are injured; a DREF grant of just over US$ 300,000 was being released for emergency health-care, food, water and shelter.
-In Bangladesh, more than 1.5 million people are suffering combined impacts of the monsoon and Cyclone Komen in the coastal districts of Bhola, Cox's Bazar, Chittagong, Nokhali, Feni and Bandarban; hundreds of Bangladesh Red Crescent Society personnel are in action in response and cash grants have been made to 1,000 families.
-Reports from the Democratic People's Republic of Korea say 21 people have been killed and nine others are missing as hundreds of homes as well as roads and bridges were damaged or washed away in several provinces.
'Precipitation extremes'
More than 12 million people across Pakistan, India and Bangladesh are estimated to have been affected by the seasonal monsoon.
"We have not yet analysed whether these specific rainfall-events are more intense because of climate change," said Climate Centre Director Dr Maarten van Aalst, who was also a Lead Author on the Intergovernmental Panel on Climate Change's (IPCC) recent Fifth Assessment Report, known as "AR5".
"AR5, however, does contain a fairly confident prediction that rainfall extremes over Asia will change with global warming."
The most recent IPCC assessment of climate impacts in its Working Group II (WG II) report said: "Future increases in precipitation extremes related to the monsoon are very likely in East, South, and South-East Asia…
"All models and all scenarios [also] project an increase in both the mean and extreme precipitation in the Indian summer monsoon."
Vulnerability
But whether intensified monsoons mean more serious disasters "partly depends on us," according to Van Aalst.
"Investment in resilience to prevent a future increase in disasters is more necessary than ever," he says.
"Disasters are not just caused by the hazards but also by vulnerability – we need to manage the latter even more diligently now that climate-related hazards are on the rise."
Meanwhile on shorter timescales than WG II – i.e. within an individual monsoon season – ground-breaking work on "forecast-based financing" is this year planned to be extended to Asia, in Bangladesh and Nepal.
The new early-warning approach – part of an action plan by the German government and Red Cross for "humanitarian adaptation to climate change" that also involves the World Food Programme and the Climate Centre – establishes forecast thresholds for risks such as floods, cyclones and cold-waves that, once crossed, will trigger and fund clearly defined humanitarian actions ahead of a potential extreme event.
Emergency response teams from the Myanmar Red Cross evacuating families and providing relief and medical assistance to communities affected by severe monsoon floods and landslides. At least a million people have been affected in that country and thousands have taken shelter in temporary evacuation. (Photo: Patrick Fuller/IFRC)