'Le climat change! Et vous?' Climate-related workshop in West Africa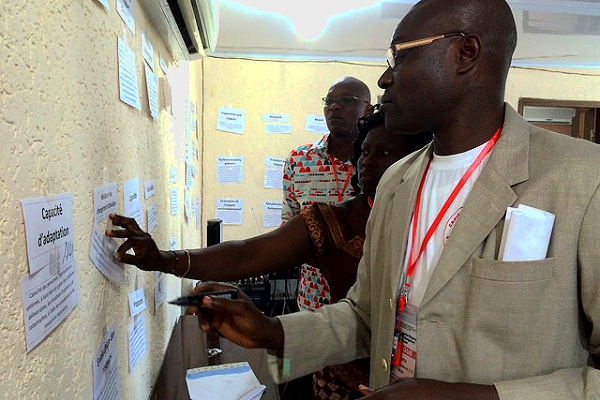 29 July 2015
The Climate Centre last month provided technical input at an IFRC workshop in Togo on climate and weather information in early warning, preparedness and response.
Staff from 12 French-speaking National Societies came together for the first climate-related IFRC-Climate Centre training workshop of its kind in West Africa, after the success of a similar event for the Red Cross Red Crescent in East Africa.
The Togolese Red Cross (TRC) – which is taking part in groundbreaking pilots of forecast-based financing of humanitarian response, centred on flood danger – shared its experience of setting up detailed early-warning systems, and hosted the week-long session in the capital, Lome.
As well as disaster preparedness, participants were introduced to a wide range of climate issues, including both adaptation and mitigation.
The loose general theme was: le climat change! Et vous?
Staff from these National Societies took part: Benin, Burundi, Cameroon, Cape Verde, Chad, Gabon, Guinea, Ivory Coast, Mauritania, Niger, Senegal and Togo.
The IFRC Livelihoods Centre, hosted by the Spanish Red Cross in Madrid, also participated, focusing on links between food security and livelihoods in a changing climate.
In the most recent flood disaster to hit West Africa, the IFRC allocated nearly US$ 120,000 in humanitarian cash from its Disaster Relief Emergency Fund after torrential rain in the first week of June hit the Ghanaian capital, Accra.
It caused the "displacement of community populations, loss of over 200 lives and loss of property and livelihoods," according to the Ghanaian Red Cross Society (GRCS)
The GRCS had been alerted to the seasonal flood danger by the National Disaster Management Organization on 3 June, and had at least 100 community-based rescue and first aid team-members in readiness the next day.
In Togo last month, staff from 12 French-speaking National Societies came together for the first climate-related IFRC-Climate Centre training workshop of its kind. Here participants from the Ivory Coast, Senegal and Togo organize terminology into categories, matching strategies with issues.
(Photo: Janot Mendler de Suarez)