Focus on forecast-based financing at first 'dialogue platform' for German climate action plan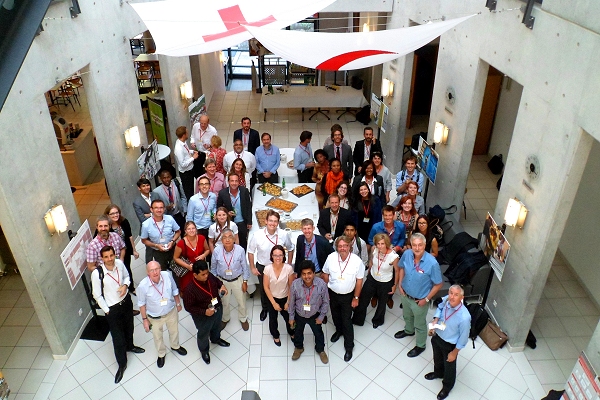 17 July 2015
The first twice-yearly dialogue platform supported by the German Federal Foreign Office – gathering meteorologists, climate scientists, humanitarians and donors as part of an action plan for adaptation to climate change – was hosted in Geneva by the IFRC this week.
The plan centres on forecast-based financing (FbF) pilots being implemented by the German Red Cross (GRC) and National Societies or the World Food Programme (WFP) in Bangladesh, the Dominican Republic, Haiti, Mozambique, Nepal, Peru and the Philippines.
The Geneva meeting heard an update on FbF work already underway in Ethiopia, Togo and Uganda from the Climate Centre's Senior Climate Specialist, Erin Coughlan de Perez.
"Faced with rising climate risks, it's no longer enough in our view to become active only after a disaster," said Thorsten Klose, Head of the Programme Support and Resilience Unit at the GRC and an expert on risk reduction and adaptation.
"This is why, together with the Federal Foreign Office, we have developed a new early-warning approach based on forecasts to determine the probability of extreme-weather events in advance, enabling action at an early stage.
"We are establishing forecast thresholds for risks such as floods, cyclones and cold-waves in Peru, Mozambique and Bangladesh that, once crossed, will trigger clearly defined standard operating procedures before a potential extreme-weather event.
"These might be ditches as a defence against floods, storm-protection for houses, securing food and seed in plastic bags, evacuation procedures, and the distribution of blankets, hygiene kits and water-purification tablets."
'New standards'
The Climate Centre is assisting with delineation of the exact thresholds in the pilot countries, partly based on scientific evaluations of regional climates.
A GRC press release (German only) last week said the National Society regarded FbF as "setting new standards" in the fight against the humanitarian consequences of climate change.
Extreme-weather events such as floods, hurricanes and droughts are getting more frequent, the GRC said, with "disastrous consequences for people who are often already poor and vulnerable".
This week's dialogue platform gathered more than 50 experts from around the world, including practitioners from pilot countries.
International organizations taking part included WFP, the Nansen Initiative, Welthungerhilfe, the UN Food and Agriculture Organization, UN OCHA, and the World Bank.
They joined scientists from the International Research Institute for Climate and Society (an IFRC partner), Reading and Oxford universities, and the Joint Research Centre of the European Commission, among others.
Alpacas
"It's clear that the need for humanitarian assistance as a result of climate impacts will increase dramatically," Klose said, "even while funding for humanitarian assistance is stagnating."
The GRC has now set up a mini-site to track progress with the FbF pilots.
In Bangladesh, for example, it reports that protection activity on the approach of cyclones could include storm protection for houses and food and seeds being secured in plastic bags.
In Mozambique, "knowledge of evacuation routes and first aid in the event of a disaster can make the difference between life and death," says the GRC site, and "even simple measures have an impact, like early distribution of mosquito nets to prevent malaria".
The climatic situation in Peru is more complex, meanwhile, with its northern regions affected by floods and southern highland areas susceptible to drought and extreme cold, affecting as many as 1.3 million people.
There, hygiene kits and other health measures can be operated protectively, and even humanitarian-focused veterinary care of alpacas, whose coats provide many people with livelihoods, can be provided as part of FbF.
This week's dialogue platform as part of the German Federal Foreign Office and Red Cross action plan for climate change adaptation gathered meteorologists, scientists, humanitarians and donors at the IFRC Geneva offices. (Photo: Alexandra Rueth/GRC)