Climate change is 'defining challenge' of the century, #CFCC15 concludes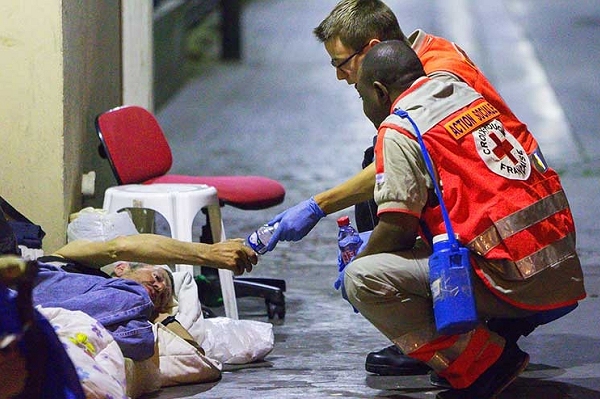 13 July 2015
Friday's closing statement from the four-day international scientific conference at UNESCO headquarters in Paris describes climate change as the "defining challenge" of the 21st century, with causes deeply embedded in humanity's relationships with energy, food, landscapes and consumption.
"Its effects have the potential to impact every region of the Earth, every ecosystem, and many aspects of the human endeavour," the statement says.
"Its solutions require a bold commitment to our common future."
The closing statement of the "Our Common Future Under Climate Change" (#CFCC15) conference – the largest of its kind ahead of COP 21 UN climate talks in the French capital in December – summarizes science's understanding of the "solution space and the problem space".
Of immediate relevance in the humanitarian sector, it says on the latter that climate change has contributed to extremes like "heatwaves, heavy rain, wildfires, droughts, and decreased snow and ice.
"People and places around the world are vulnerable and exposed to climate change, with different risks in different places.
"Vulnerability is especially daunting where poverty, inequalities, lack of infrastructure, and ineffective governance combine to constrain options."
Continued high emissions of heat-trapping gases, it says, will increase the risk of "severe, pervasive and irreversible" impacts.
'Transition'
However, the 2,000 scientists from nearly 100 countries meeting in Paris expressed "cautious optimism" that growing political momentum means a 2°C upper limit to global warming is still within reach, given sufficiently ambitious mitigation, according to a #CFCC15 press release Friday.
Chris Field, founding director of the US Carnegie Institution's Department of Global Ecology and chair of the conference's scientific committee, said: "We are moving to a post-carbon era where climate-change mitigation and adaptation are combined with other goals to build a sustainable future."
Laurence Tubiana, French ambassador at the UN climate change negotiations, said: "I am amazed at the variety of scientific and interdisciplinary work I have seen in the past four days.
"Scientists are working, with many partners, to develop long-term pathways at the scale of cities, economic sectors like agriculture and national economies, with strong focus on making solutions operational.
"We need COP 21 to be the political answer to that work, and show that the transition to a decarbonized and climate-resilient economy is not just necessary [but also] feasible…"
'Unusually protracted' heatwave
Climate Centre Director Maarten van Aalst contributed to #CFC15's opening plenary with a presentation on Red Cross Red Crescent work such as the IFRC-IRI map room and German-supported forecast-based financing.
Timely communication such as the climate attribution of the recent European heatwave, he told delegates, "means we can communicate the science to the general public when it matters, rather than in academic journals months later".
As scientists gathered in Paris for #CFCC15, a French Red Cross (FRC) statement Monday said 16 of the country's administrative departments remained on orange alert for what had been described as the "unusually protracted" heatwave also affecting much of western Europe.
The FRC national operations centre was coordinating volunteers in some 30 departments, especially for the distribution of water to elderly and other vulnerable people, as well as railway passengers stranded by heat-related technical problems.
The Paris conference had four main objectives: to provide state-of-the-art scientific knowledge on climate change; explore pathways combining mitigation, adaptation and sustainable development; assess the potential for evidence-based solutions to climate change; and contribute to a "science-society dialogue". 
It was seen as a major opportunity for scientists, stakeholders and public to take stock of existing knowledge and prepare for an "ambitious post-2015 climate governance regime".
As delegates gathered in Paris for a major scientific conference that listed heatwaves at the top of a list of weather extremes exacerbated by climate change, French Red Cross volunteers were distributing water to elderly, homeless and other vulnerable people amid an "unusually protracted" European example. 
(Photo: Benjamin Vancrayenest/French Red Cross)