Heatwaves on Argentine Red Cross radar as it prepares for a changing climate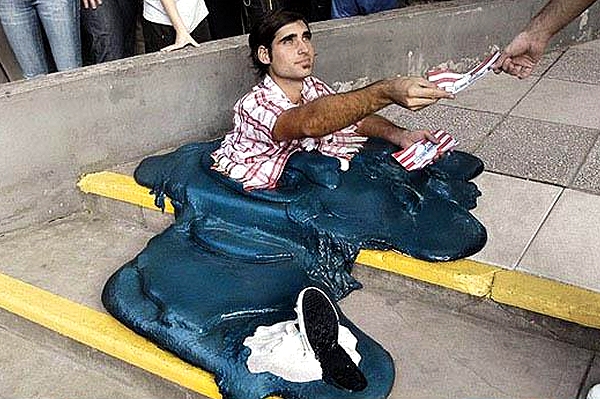 11 July 2015
The Argentine Red Cross (ARC) and the Climate Centre last week took part in the International Forum on Climate Change in Buenos Aires convened by the Ministry of Agriculture.
About 2,500 participants joined the event, which included presentations from government officials, scientists writing for the Intergovernmental Panel on Climate Change, the private sector and civil society members, as well as artistic performances and the largest game-session ever facilitated by the Climate Centre.
In the game, the audience played farmers choosing whether to invest for normal weather or plan for an excess of rain.
The new ARC president, Diego Tipping, spoke of the "humanitarian dimensions" of climate change during a session linking individual action and community organization.
"We are confronting new challenges and we need to mobilize the power of solidarity in new ways," he said.
Dr Tipping highlighted his National Society's strategic decision to invest in innovative approaches and partnerships.
These have ranged from one with the Ministry of Science and Technology – building on the recent American Red Cross-IFRC vision for the humanitarian use of emerging technology – to training volunteers in game-enabled learning and dialogue.
'Flooded home, melting man'
The work of the ARC includes awareness-raising initiatives on climate risks involving artists and government agencies such as the "flooded home" and (photo) the "melting man". 
The National Society's additional partnerships have also included the recruitment of an informal adviser on meteorology and early warning.
A new research project with the National University of La Plata is called "Know what to do: Building a multi-stakeholder early-warning system", and an initiative on managing health-risks in heatwaves is underway in Buenos Aires province.
The Climate Centre's collaboration with the ARC started in 2006 with the first Preparedness for Climate Change programme.
The Argentine Red Cross came up with a novel and entertaining way of highlighting the heatwave danger that is growing with climate change in some parts of the world, including Europe: the melting man. A highly topical initiative on managing heatwave-related health risks is underway in Buenos Aires province. (Photo: ARC)