IFRC science partners: European heatwave exacerbated by climate change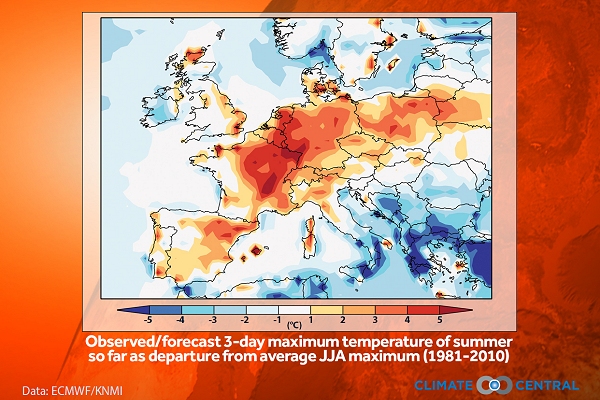 3 July 2015
It's "virtually certain" that climate change increased the likelihood of the heatwave now affecting Europe, according to a team of international scientists that includes the IFRC's specialist reference centre on climate change.
This is the first time such information – based on an analysis of observations and models – has been made available during a weather-related emergency like this current heatwave.
A more detailed quantitative analysis of the role of climate change in the current heatwave, including data for several specific cities is available at www.climatecentral.org/europe-2015-heatwave-climate-change.
The ground-breaking World Weather Attribution programme includes leading scientists from Oxford University, the Royal Netherlands Meteorological Institute, the University of Melbourne, and the Red Cross Red Crescent Climate Centre; it's convened by the US-based Climate Central science journalism organization.
The analysis of the European heatwave also involved the meteorological agencies of France and Switzerland and the French National Centre for Scientific Research.
National Red Cross Societies in Europe this week quickly flagged public-health guidance on heatwave precautions, aimed at especially vulnerable groups like children and the elderly.
A French Red Cross warning on its homepage says the heatwave has "spread to the whole country and Météo France has announced several temperature records.
"Our teams are on the alert throughout the country to provide help and support to vulnerable people, especially seniors."
In the Netherlands, the Red Cross quotes the country's Central Bureau of Statistics as saying that during a heatwave more than 200 people will die in a week – pushing up average mortality by 10 per cent.
The Netherlands Red Cross adds that "the effects of heat can be prevented through simple actions such as staying in the cool, drinking extra water and avoiding strenuous physical effort."
Red Cross societies in Spain, Belgium, the UK and Germany are also issuing health advisories and responding to needs caused by the heatwave.
The IFRC has reiterated its deep concern about rising global risks of weather-extremes due to climate change.
At last year's UN climate summit in New York, IFRC Secretary General Elhadj As Sy welcomed a new international commitment for climate information to become a "public good" – including better data on climate as well as vulnerability, exposure, and population.
By the end of 2015, he said, the IFRC was committing to "systematically communicating to the general public about the role of climate change in major disasters."
Climate Centre Director Maarten van Aalst said: "We are often caught unawares by these rapid changes in risk and need to do more to cope with the 'new normals'.
"But fortunately all that's required is often just simple actions like handing out water and looking after your elderly neighbours to make sure they are OK.
"Red Cross volunteers are promoting these actions all across Europe."
An observed and forecast temperature chart for Europe, showing the current heatwave that is causing humanitarian concern across the continent. Broadly speaking, the weather system causing the record-breaking temperatures is moving eastwards. (Source: Climate Central)
Media contacts:
Maarten van Aalst, Climate Centre Director
M +316 15086199, E vanaalst@climatecentre.org
Andreea Anca, Communications Officer, IFRC Europe
M +367 09537709, E andreea.anca@ifrc.org
Benoit Carpentier, Team Leader, Public Communications, IFRC
M +4179 2132413, E benoit.carpentier@ifrc.org