Plan International and Climate Centre game session a hit in Bangkok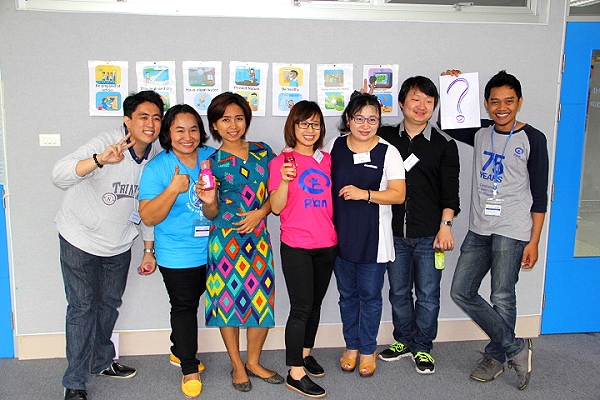 19 May 2015
We know the climate is changing and future generations will bear the brunt.
The "weirding" of the planet, as it has been called, is already bringing about more extreme events such as floods and droughts, and this trend is only expected to continue.
Climate change is throwing nature's timing out, affecting farmers and food security.
Sounds like a doomsday scenario ? Not if you know what to do!
That's exactly what children are learning in Plan International's Child Centred Climate Change Adaptation Programme – a project that includes a partnership with the Climate Centre to include participatory games for children and youth. 
Earlier this month staff involved with the project took part in a "training of trainers" session in Bangkok to learn to facilitate a game package for young people in a changing climate.
'Make it real'
Other participants included staff and youth representatives from the Thai Red Cross and IFRC, the Southeast Asia Youth Environment Network, and a Vietnamese NGO.
The game package included Act to Adapt, developed in cooperation with the Engagement Lab at Emerson College – a highly interactive game about climate change and adaptation for children and young people.
To "make it real", as one trainee put it, the facilitation was tested at the NIST international school in Bangkok; now the teacher wants to include the game in the 11th grade curriculum.
In the game, a team representing community members needs to strategize quickly to protect resources from the impact of the "climate change" team.
Young players are encouraged to look at how they can adapt to changing circumstances, alone or with friends. 
One student concluded: "As an individual you can do more, but as a community you can do better."
Newly trained facilitators at the Plan International-Climate Centre Act to Adapt game session in Bangkok earlier this month. Developed in cooperation with the Engagement Lab, the game is highly interactive and teaches youngsters about climate change and adaptation. (Photo: Matt Manfredi/NIST)